Hawaiian Holdings, parent company of Hawaiian Airlines, posted a loss of $98 million for the first quarter of 2023, compared with a loss of $133 million last year.
The Honolulu-based carrier's revenue rose 28% to $613 million in the first three months of 2023, compared with last year's revenue of $477 million, the carrier said during its first-quarter earnings call on 25 April.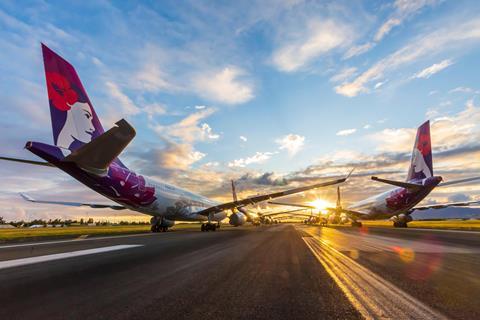 The cost of aircraft fuel rose 31% year-on-year for Hawaiian, while total expenses rose 17%.
Those increases were partially offset by 15% higher capacity year-on-year "as Hawaiian recovered from the effects of the Omicron variant of Covid-19, which impacted results in the first quarter 2022", the airline notes.
Hawaiian flew 2.6 million passengers in the first quarter, up 27% from 2 million passengers during the same period of 2022.
'SEVERE NEGATIVE IMPACT'
Peter Ingram, chief executive of Hawaiian, cited several operational challenges facing the carrier, with five of its 18 Airbus A321neos currently out service and waiting for engines, and ongoing repairs to the primary arrivals runway at Daniel K Inouye International airport in Honolulu.
"The project has experienced delays and is currently scheduled to be completed before the end of May, by which time we will have effectively seen seven months of impairment to our capacity," Ingram says. "Air traffic control protocols to manage the disruptions have had a severe negative impact on our neighbour island operation."
For the past seven months, Hawaiian's Boeing 717s have been regularly held on the ground "with extensive waits for approval from air traffic control", Ingram says. "During the most recent period, this has been a daily phenomenon."
Hawaiian currently has 18 717s in service for island-hopping flights, according to Cirium fleets data.
DREAMLINER ON TRACK
Looking ahead to the rest of 2023, Hawaiian still expects to take delivery of the first of 12 Boeing 787-9 Dreamliners it has on order during the fourth quarter.
The first of the widebody jets will enter service in the first quarter of 2024, Ingram says, and the fleet will grow to four aircraft by the end of next year.
"Planning and training have already kicked into gear, and we do not expect any impact from the recent brief interruption of Boeing 787 deliveries," Ingram says.
The carrier is also progressing toward hauling freight for Amazon with Airbus A330s, with revenue flights set to begin in the fourth quarter. "We will ramp up to 10 freighter aircraft in the operation over the course of 2024," Ingram says.
Hawaiian hopes the runway issues at its operational base will be resolved by the end of the second quarter.
"With the numerous delays imposed on us in Honolulu, we have added block time and additional turn time, which ultimately results in lower efficiency," Ingram says. "We are hopeful that the project stays on track and we can return to our historical levels of dependability and efficiency."
"But it remains a challenging revenue environment," he says.