Hawaiian Airlines expects record revenue from its domestic operations in the second quarter of 2022, as well as an increase in international demand as the year progresses, and travel rules are eased.
The Honolulu-based carrier says on 26 April that it posted a $123 million loss for the first three months of the year, but that the the rest of 2022 should prove favourable, with its international business looking to benefit most.
"Strong demand for leisure travel to Hawaii is poised to propel our domestic revenue to record levels as the effects of the pandemic are more muted now than at any point in the past two years," Peter Ingram, the company's chief executive, tells analysts on the airline's quarterly earnings call. "Based on these trends, we anticipate a resurgence of international demand as restrictive travel policies continue to loosen."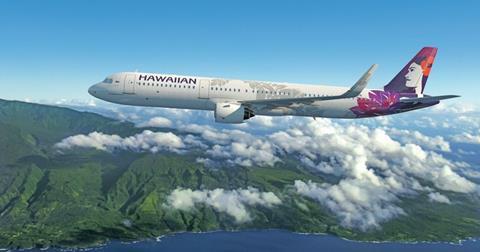 The carrier experienced strengthening demand throughout its domestic network during the three months that ended on 31 March, as the impacts of the Omicron variant of Covid-19 eased through the quarter and related restrictions for travel to the US archipelago in the Pacific Ocean were lifted.
The company's first quarter revenue was $477 million, more than double than the $182 million it reported last year, but still down 27% from the same three months in 2019.
During the current quarter, due to end in June, Hawaiian expects capacity to be 11.5% to 14.5% lower than in the second quarter of pre-pandemic 2019, with second quarter revneue to be down just 8% to 12% compared to the second quarter of 2019.
JAPAN DEMAND
The biggest brake on the airline's growth is the company's network of flights to Japan - as well as that government's continued wariness about completely lowering its health-related restrictions.
The Japan market is among the carrier's most important international destinations. Prior to the coronavirus pandemic, Hawaiian flew to numerous countries in the Asia-Pacific region, some of which have already dropped restrictions, and some of which have been slower in shifting their policies.
"Of the 25% of pre-pandemic revenue that was international, a little more than 70% of that was from Japan," Ingram says. "While Australia and South Korea have once again reopened their countries to visitors, Japan is "still trying to grind out of the starting gates".
The northeast Asian country currently maintains weekly or per-flight caps on numbers of incoming passengers that are significantly less than the number of passengers that previously arrived in the country. The caps are due to the country's limited post-arrival testing capacity, executives say.
"Our allocation is still small and that's going to have to be removed" before any consequential change comes, says Brent Overbeek, Hawaiian's chief revenue officer. "It is our understanding that some of these restrictions remain politically popular in Japan, in contrast to the attitude we see in this country."
With elections coming up later this year, "we don't expect a material move in policy before July," he adds.
"It is encouraging to see Australia and South Korea gaining momentum, New Zealand getting ready to go, and we are looking forward to have Japan join the party in a meaningful way," Ingram adds.
When it does, Hawaiian will be ready to spool up quickly.
"We know that there is pent up demand for travel to Hawaii from international geographies and we are preparing for our service to return to full-scale," Ingram says. "We are going to see a really robust recovery as people have the ability to get out and stretch their legs and do things that they've been missing for a while."
STARLINK INTERNET
On 25 April, the airline said that it will begin to use the Starlink satellite system to provide broadband internet services on transpacific flights, claiming to be the first major carrier to tie up with the network.
Starlink is the low-Earth orbit satellite network developed and deployed by Elon Musk's private firm SpaceX, developed to enable internet access in remote locations.
Ingram says the airline deliberately trailed the industry in offering high-speed internet to passengers because previous generations of systems weren't good enough. "Until now there was no product that matched our expectations," he says.
Hawaiian plans to introduce the service in 2023 and offer it to customers for free.