Hawaiian Airlines has adjusted its third-quarter earnings expectations down following issues with its Pratt & Whitney engines and a devastating wildfire on the island of Maui that reversed the carrier's third-quarter earnings trends.
The Honolulu-based company said on 5 August that it "continues to closely monitor both events as they continue to evolve".
Hawaiian now expects capacity during the three-month period as measured in available seat miles (ASMs) to be about 4% to 5.5% higher than the same quarter last year. Previously, Hawaiian had said ASMs would rise about 5% to 7.5% compared to the third quarter of 2022.
"This decrease is primarily due to the accelerated inspections of Pratt & Whitney's GTF engines," the company says.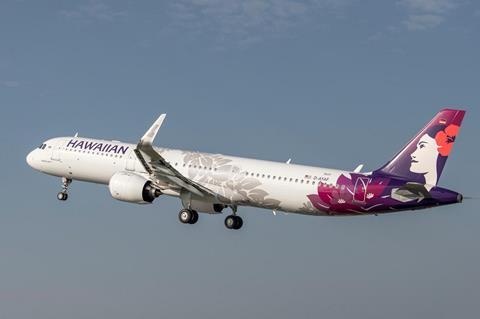 Pratt on 25 July disclosed that 1,200 of its next-generation turbofan engines would need to be returned to the company for inspections and partial disassembly, citing possibly defective high-pressure turbine disks that require removal and inspection ahead of regular maintenance schedules.
Last month, Hawaiian's chief executive Peter Ingram told FlightGlobal that the airline had grounded a handful of its affected Airbus A321neo aircraft and adjusted the airline's schedule to accommodate the inspections. The Honolulu-based carrier operates 18 of the type – all powered by the PW1000G engines in question.
Operating revenue per ASM during the third quarter is expected to be 4% to 7% lower than the same three months last year, where the prior expectation was of a 2% to 5% decrease. "This change is primarily due to reduced travel demand following the Maui wildfires."
In August, brushfires destroyed a wide swath of western Maui, including the ancient city of Lahaina. Relief efforts are still ongoing, and the island's tourism industry has suffered from travellers staying away.
"Third quarter revenue had been trending positively but was reversed due to the West Maui wildfire," Hawaiian says. "The updated guidance reflects an estimate of the impact on third quarter 2023 revenue due primarily to reduced travel demand to Maui from the US mainland and neighbor islands."