Hawaiian Airlines has pulled the plug on its Ohana by Hawaiian subsidiary as the pandemic and ongoing risk mitigation measures have led to a sharp decline in neighbour island service demand.
The Honolulu-based carrier says on 27 May that it made the decision "following an in-depth assessment of the overall operation and its long-term viability".
"This is a heartbreaking decision, particularly for those of us who were involved in launching the business in 2014," says Hawaiian chief executive Peter Ingram. "We took a hard look at the service and could not identify a way to restart and sustainably operate."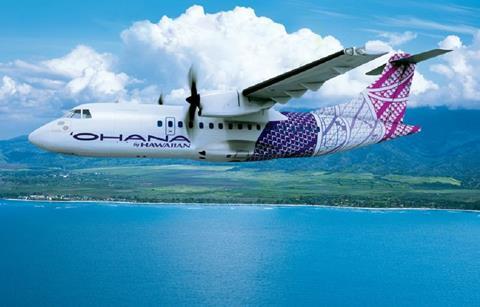 Ohana's all-cargo service with ATR-72 turboprop aircraft, launched in 2018, was suspended in November 2020. Passenger service with ATR-42s was halted in January, Hawaiian says. The carrier would have had to incur "significant costs" if it had attempted to restart service.
"The soonest flights could have resumed was at the end of this year," Hawaiian says.
The airline operated scheduled flights between Hawaii's capital Honolulu and Molokai island as well as Lanai on Maui. Hawaiian says it has now lent some of its ground equipment to competitor Mokulele Airlines, which is providing service on those routes.
Ohana by Hawaiian is the fourth US regional carrier - following Compass Airlines, Trans States Airlines and ExpressJet Airlines - to fall victim to the coronavirus pandemic.
The airline's flights were operated by Hayden, Idaho-based Empire Airlines as a third-party feeder carrier, and at its peak employed 97 pilots, flight attendants and maintenance personnel that were dedicated to the Ohana operation. Of those, 82 were based in Hawaii, and the remaining 15 in Idaho.
According to Cirium fleets data, three Empire ATR-42s and three ATR-72s were dedicated to Ohana. Hawaiian says it has begun to transfer those aircraft to the mainland for storage and eventual sale.
Hawaiian has had a particularly difficult time as the strict travel restrictions – including mandatory quarantines - in its home state of Hawaii, an island archipelago about 2,500nm (4,500km) southwest of the US mainland, hindered the airline's operations.
After reporting a $551 million full-year loss for coronavirus-plagued 2020, the airline said in April it is saw bookings "improve materially" in the first quarter, as Americans tentatively returned to air travel.