Hawaiian Airlines is struggling with a dramatic decline in business due to the global COVID-19 epidemic, as passengers cancel both international and, increasingly, domestic travel in an effort to protect themselves from becoming infected.
The crisis has become so critical for airlines that the Honolulu-based carrier decided to cancel its planned investor day, scheduled for 9 March. Instead, chief executive Peter Ingram gave industry analysts an update on the airline's anticipated decline in business as the global crisis continues to unfold.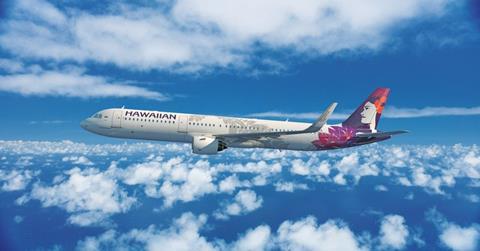 "The spread of the novel coronavirus and COVID-19 is now an international health emergency," Ingram says. "This is very different from a weak economic situation where people want to travel but don't have the means to travel. This is driven by the level of anxiety that has built around travel and anxiety in general of spread of disease. We are dealing with a crisis in consumer confidence around travel and the uncertainty that is being created from all this."
Earlier in the day the airline withdrew its revenue per available seat mile (RASM) expectations for the first quarter of the year. The previous guidance had been for a decline of 4.5-7.5%.
"The company is unable to provide an updated guidance range due to considerable uncertainty about the impact of COVID-19 on demand for the remainder of the quarter," Hawaiian says in a statement. "If there are no new net bookings for March as of March 5, 2020, RASM would be down about 12 percent year-over-year for the first quarter."
"Things are evolving so much on a day-to-day basis so there is really no trend from which to predict," Ingram tells analysts. "There are demand impacts across a range of geographies but the impacts are not uniform. Things continue to evolve quickly so it is difficult to extrapolate the past to predict the future."
Hawaiian suspended flights to South Korea's Seoul Incheon International airport in late February, as infections in that country exploded. The airline then halted some operations to Japan last week. South Korea represents about 3% of the airline's capacity, whereas Japan represents about 21%. The suspensions will last until at least the end of April.
Ingram says Hawaiian's Japan load factors at this time of year are usually in the high 80 to low 90 percentile range, and have fallen between "mid-teens to 20 percentage points" from the same time last year. "Clearly there will be significant revenue impact," Ingram says, without quantifying what that impact will be.
For the domestic market, Ingram says bookings were holding in line with expectations for most of February until the month's final week, when the airline began to see "measurable declines".
"Were there some improvement in news flow, a reduction in number cases in certain geographies, more information specifically about how the disease spreads and how it doesn't spread, those are all things that I think will help restore consumer confidence," Ingram says.
The carrier says the decrease in capacity caused by the temporary suspension of service to South Korea is "largely offset" by an increase in capacity due to upgauges on North America routes for operational reasons.
These operational reasons include maintenance-related downtimes on some of the airline's A321neo fleet, Ingram says. The aircraft's Pratt & Whitney PW1100G-series engine were subject to "unintended shop visits". During the first quarter, up to three A321neos were out of service at the same time, so service was upgauged to the airline's A330 which were no longer flying to Asia.
SLOT RELIEF
Another problem facing airlines managing through the decline in demand is securing slots at specific airports around the world. Most locations require airlines use slots at least 80% of the time in order to maintain take-off and landing rights. So far Hawaiian has been able to meet that requirement despite cancelling flights, Ingram says.
Airports within the carrier's network that have these slot rules include Tokyo, Seoul Incheon, John F Kennedy in New York, Auckland, Sydney and Brisbane.
Last week, industry lobbyist IATA asked jurisdictions to relax the rules, arguing that strict adherence to the regulations may deny airlines the flexibility to respond to the coronavirus outbreak and result in airlines flying empty aircraft in order to hold onto slots.
Ingram says he hopes that Hawaiian won't have to make "irresponsible" decisions of flying empty aircraft just to maintain slot privileges. "It doesn't make sense to fly for slot protection purposes only."
On Monday, the European Commission said it is considering slot relief for certain routes. Slot rules were relaxed by the Commission during previous periods of financial stress for airlines after the 11 September 2001 attacks, SARS and the Iraq war in 2003, and the financial crisis in 2009.
Asked if the current situation feels like the 2001 attacks, Ingram says there are some similarities but also important differences.
Both situations are "driven by fear and uncertainty about the risks associated with travel. In this case we have again a circumstance that is driven by fear. The key difference is what it is the fear of. In 2001 the fear of terrorism and uncertainty about what the next event was going to be in that extremely difficult time. Here it is a fear about a disease that still has a number of unknowns."
Hawaiian Airlines reports first quarter results in April.