The easing of border restrictions across Europe has led HSBC to upgrade its ratings for the major European low-cost carriers, in the expectation that their earnings will rapidly increase over the coming year.
The bank has upgraded EasyJet and Ryanair to "buy" from "hold", and Wizz to "hold" from "reduce". Price targets for each have been raised.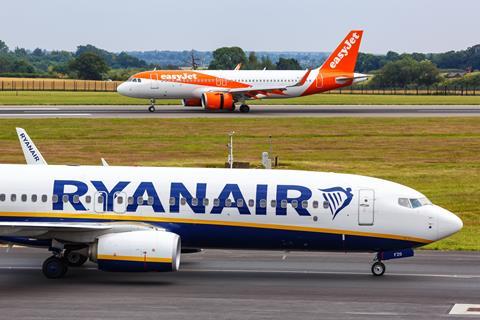 HSBC cites a number of reasons that the outlook for Europe's low-cost carriers is improving.
"The EU has now agreed the Digital Covid Certificate to facilitate travel within the EU," it notes. The policy allows fully vaccinated people to travel freely within the bloc.
While the policy is not mandatory for member states, there has been widescale adoption.
"The EU is also opening up to visitors from outside the EU, subject to vaccinations or testing. Whilst UK policy is not easily predicted, we expect UK travel restrictions to ease," writes HSBC.
Although it says any prediction of UK travel policy is difficult, an upcoming review of the country's policy cannot remove any further major tourism markets from green, because "there are none". It adds that Covid-19 case levels are falling in many key tourism markets in Europe, and are lower than the UK in many of them.
The bank adds that the USA is likely to soon rescind its executive order banning UK and EU travellers from entering the country, which could herald the reopening of the transatlantic market.
It adds that progress on transatlantic travel could also "crack open" the UK market, on the grounds that it is politically impossible for the nation's government to reopen to the USA but not Europe.
Although the bank describes the UK's traffic-light system as "unpredictable, restrictive and opaque", it notes recent press reports that double-vaccinated people could be allowed to visit amber countries. A review of the country's travel policy is set to be outlined on 28 June.
The reopening has prompted HSBC to upgrade its expectations for the carriers' load factors and yields for the coming year, as it correspondingly reduces the expectations for further capital raises.