IAero Group, formerly Swift Air, has voluntarily filed for Chapter 11 bankruptcy protection in Florida.
The company, based in Greensboro, North Carolina and Miami, said on 19 September that it made the move "in order to implement a restructuring transaction and assure long-term viability".
According to Cirium fleets data, IAero Airways operates a fleet of 39 Boeing 737s and one 767.
"Our customers remain our top priority and they can continue to depend on us for the same safe, reliable travel and high-quality service they know and expect from us," Timothy Rainey, president of iAero Airways, said. "After careful consideration, our board determined it was necessary to take this step now to address our financial strength and restructure certain of our contractual relationships and legacy balance sheet liabilities."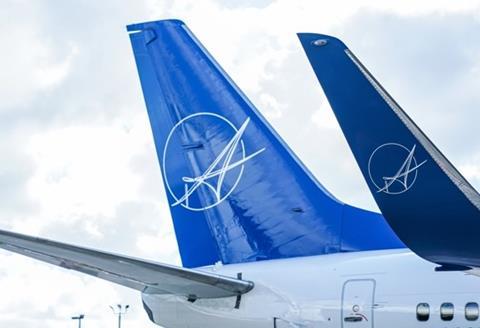 "We believe this Chapter 11 filing provides the most effective means to restructure with minimal impact on the business and our customers and we are committed to moving through this process as expeditiously as possible so the company can emerge from Chapter 11 well-positioned to maximise our long-term prospects for the benefit of our customers, employees and other stakeholders," he adds.
It's seeking the protection to be able to continue to conduct normal operations, including the ability to pay employees their wages as well as healthcare and other benefits and to "honour pre-petition obligations to critical vendors and provide continued safe and reliable flight service".
IAero was created in 2019 when it took over Swift Air, which had been established in 1997. It says it is "the largest B2B passenger charter and cargo air carrier in the US". It offers aircraft, crew, maintenance and insurance (ACMI) charters and cargo flights.
According to the court filing, the company has up to 49 creditors and estimated liabilities of between $500,000 and $1 million. It claims assets of less than $50,000.
The company says it is "optimistic" about its long-term future. It's seeking the protection "to [stabilise] its businesses following a global pandemic that placed unprecedented pressures on the airline industry".
In May 2020 the airline had been in the news after one of its 737-800s landed at San Diego International airport missing its vertical fin root, parts of its vertical stabiliser and a damaged horizontal stabiliser.
The aircraft, registered N820TJ, was photographed landing in San Diego at around 15:55 on 19 May, after arriving from Southern California Logistics airport near Victorville. Its vertical fin root appeared entirely absent while a number of panels were also missing between spar attachment points on the left side of the fin. Later examination also found that the left-hand horizontal stabiliser, as well as the fuselage crown skin, sustained "substantial damage" as the structures detached during flight.
Following that incident, in 2022 Boeing amended removal and installation maintenance instructions for Boeing 737 dorsal fins.