The operating environment in Europe is proving "extremely difficult" this summer, but Iberia's strong punctuality offers a template for other carriers in the group, according to IAG.
Outlining a consensus-beating second-quarter performance on 28 July, the British Airways and Iberia owner nevertheless highlights a string of operational challenges in Europe over the past six months, relating to factors such as the weather – including frequent thunderstorms and high winds – industrial action, ATC shortages, ground-handling issues, airspace restrictions as a consequence of the Russian invasion of Ukraine, and supply-chain woes that are affecting aircraft availability.
But while many of the issues are outside of IAG's control – weather-related cancellations at BA were up by 200% year on year in the first six months of 2023, for example – chief executive Luis Gallego also acknowledges that the divergence in operational performance among the group's airlines shows that some units need to do more to improve their resilience.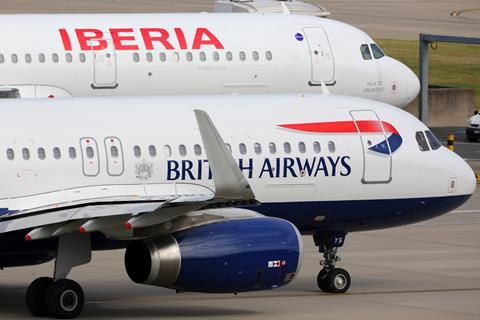 "It's true that the environment is not helping, but we know how to do it because we are having very good operations in other parts of the group," he says.
"Iberia continues to be one of the world's most punctual airlines and Vueling is proving very resilient."
In contrast, significant operational issues have been seen at the group's Heathrow, Gatwick and Dublin bases, Gallego states.
That dynamic is starkly reflected in punctuality figures for the second quarter, which show Iberia's mainline operation achieving a score of 90% in terms of departures within 15 minutes of the stated time, versus 57% at BA and 64% at Aer Lingus. Vueling achieved a score of 79%.
"In the case of Iberia it is a process that started a long time ago," Gallego says regarding actions taken to make the operation more resilient. "We are managing the situation better in Spain."
As part of a group-wide effort to improve punctuality and resilience, he explains that the focus at BA is on "recruitment, managing the supply chain and the use of wet-lease aircraft in both long-haul and short-haul fleets".
Gallego adds that a significant number of BA staff are new to the business this summer, "and you always need a period in order to improve their performance".
Still, BA's "core operation" is more stable versus 2022, he says, with late cancellations down 40% year on year in the second quarter, on 20% more flights.
Aer Lingus, meanwhile, "has focused on removing bottlenecks such as at check-in and for US connections".
At Vueling, "it has been about using data and systems to have a more joined-up approach between planning and on-the-day delivery", Gallego says, while noting that the low-cost unit has "done well despite significant exposure" to strikes among French air traffic controllers.
Amid its strong operational performance, Iberia is still investing in "more resources" to improve its resilience, Gallego adds.
And while he believes that other IAG carriers can learn from Iberia's efforts to improve its performance, Gallego also notes that the Spanish flag carrier is seeing some benefits from retaining more of its workforce during the pandemic, amid a level of government support that was not necessarily available other units in IAG.
His comments came as the group reported a profit in excess of €1 billion ($1.1 billion) for the second three months of 2023. It said there were no signs of demand weakness looking into the rest of the year.