IAG chief executive Luis Gallego is hopeful the group will be cleared to take a 20% stake in Air Europa within the next six months as it continues efforts to finalise its on-off deal for the Spanish carrier.
Iberia parent IAG had struck a pre-pandemic deal to buy the whole of Air Europa's share capital, but the acquisition fell through late last year amid European Commission competition concerns.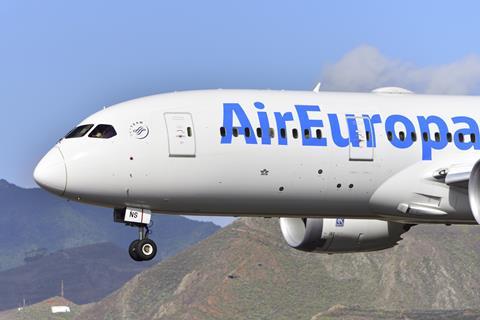 IAG though maintained a deal was still possible on fresh terms and in March agreed a €100 million ($111 million) loan to Air Europa parent Globalia which gave it exclusive on rights to purchase the Spanish airline. It said that subject to regulatory approvals from Spanish state bodies, the Instituto de Crédito Oficial (ICO) and the Sociedad Estatal de Participaciones Industriales (SEPI), it would have the option to convert the loan into a stake of up to 20% in Air Europa.
"We are still waiting for the waiver from ICO and from SEPI," Gallego said during an IAG first-quarter results briefing today. "The idea is we will have the approval from some of the competition authorities to convert that loan into equity. I think we are going to have the waiver soon and after that we consider that in less than six months we can do the conversion in equity."
He adds: "We are dealing now with the competition authorities that we consider are necessary to have 20% of the company. This is not going to be a very complex process to be honest because the level of overlap in the countries that we are working is not very high. So we are clearly confident that we will have that 20% of the company."
Gallego says it retains the ambition to eventually take full control of Air Europa, "because that is the way to capture the synergies" and "to develop the Madrid hub".
"It is true last December that the competition authorities said the remedies we put on the table were not enough to do a deal," he says, but pointing to developing a different type of agreement Gallego adds. "We want to have the flexibility to put remedies on the table that can allow us to do this deal.
"In case this deal doesn't make sense for us… we still have partners in Latin America and we can also develop other opportunities. So we are analysing different scenarios." But he adds: "Our base case is to do the Air Europa operation because we consider it the best option for the Madrid hub."