IATA has called for the EU's Digital Covid Certificate (DCC) to become the global standard for proof of vaccination status, the day after the tourism industry warned that issues over the recognition of different vaccine types could stymie the international travel recovery.
Commending the EU's speedy introduction of the DCC earlier this year, airline association IATA suggests it meets several of the key criteria required for a global standard, citing its flexible format, use of QR codes and strong verification and authentication systems.
"The DCC was delivered in record time to help facilitate the reopening of EU states to travel," says IATA deputy director general Conrad Clifford on 26 August. "In the absence of a single global standard for digital vaccine certificates, it should serve as a blueprint for other nations looking to implement digital vaccination certificates to help facilitate travel and its associated economic benefits."
But even if global standards of certification were to exist, the World Travel & Tourism Council (WTTC) says it is growing "increasingly concerned" that barriers to travel would persist based on what vaccine type an individual has received.
On 25 August, it therefore called for the US government to "urgently speed up approval of the UK's AstraZeneca vaccine".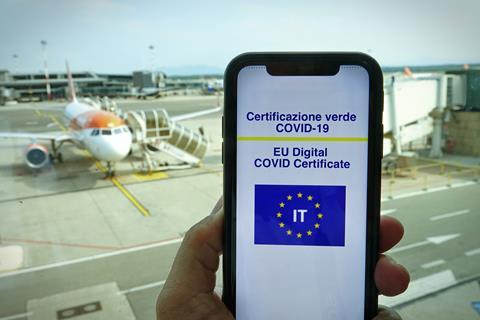 Without US Centre for Disease Control recognition of the vaccine, the WTTC is concerned that even if the Biden administration allows borders to reopen, travellers jabbed with it might still be blocked from entering the country.
With the airline industry and tourism bodies desperate for a full return of transatlantic travel, a failure to address the issue would weigh heavily on demand from the UK, for example, where millions of people have received the AstraZeneca vaccine.
Similar issues over acceptance of vaccine types exist elsewhere. In the EU, for instance, most countries accept the Pfizer, Moderna, AstraZeneca and Johnson & Johnson vaccines for entry purposes – given they have all been approved by the European Medicines Agency – but not necessarily proof of inoculation with Chinese, Indian or Russian vaccines.
The WTTC warns that the restart of international travel could be "seriously delayed without worldwide reciprocal recognition" of all approved Covid-19 vaccines.