IATA has unveiled a four-prong plan it says can help make Latin America's air transport industry more equitable and competitive following the coronavirus crisis.
Speaking at a briefing on 25 March, the group's regional vice-president for the Americas Peter Cerda says that simply returning to 2019 travel levels is "unacceptable". He urges governments to join IATA in helping to rebuild commercial aviation in countries that have little alternative transportation infrastructure.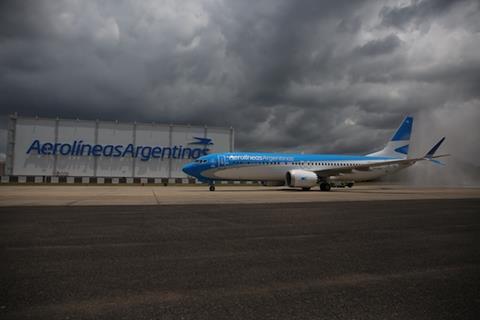 "The industry has lost money [in the past years] and not been competitive because governments have continued to impose barriers," Cerda says. "If this industry is going to be competitive – and have more connectivity, more and better service, lower prices, and provide more value to the citizens of this region – we need to be a strategic partner with the governments."
Since the global pandemic began more than one year ago, Latin American governments have provided less than 1% of the approximately $225 billion that governments' globally set aside to help airlines weather the crisis.
Travel restrictions, including quarantine requirements, remain effective in some Latin American countries, hindering hemisphere-wide recovery. Some governments see air travel as "an easy cash cow", levying taxes and other fees that can make airfares unaffordable to many people in Latin America, Cerda says.
"Post-crisis, we must address the region's serious shortcomings, to make air transport more competitive on a global stage," he adds.
Key pillars of IATA's plan include improving ageing infrastructure, implementing regulatory best practices and strengthening passenger rights, lowering aviation-related charges and taxes to improve competitiveness and transparency, and investing in technologies to make aviation more sustainable.
The region's governments must stop "using Covid as an excuse" for substandard service, he adds.
Though air travel suffered in the last year, IATA still forecasts that Latin America's air transport industry could double in 20 to 30 years – if governments support modernisation.
"The forecast to double the number of passengers in our region is a real target that can be achieved, and provide social and economic benefits to the region… [But] only if the governments are able and willing to work with us on these four pillars," he says.
While Mexico is a bright light – never having completely shut down during the crisis – other Latin American countries continue to restrict travel.
"We see that as a very positive decision from the [Mexican] government, which has permitted the domestic service to almost return to 2019 levels" and allowed travel to Europe and other international destinations to resume, he says.
But in Brazil, rising case counts in recent weeks led airlines pull back service.
"It's a concerning situation. We hope the government will get a grip on it," Cerda says. "It's a challenging time for the country, and [the] world is taking notice and imposing restrictions on this country."
"We had high hopes that we were going to see the beginning of a recovery in the first quarter," Cerda says.
But vaccine distribution – critical to air travel recovery – has been inefficient across the region, he adds.