Airline trade group IATA has presented an air travel rebook strategy to nearly 50 Latin American and Caribbean governments, laying out guidelines aimed at minimising the spread of coronavirus during airline travel.
The multi-point plan, which does not recommend that airlines block middle seats, includes guidelines aimed at every stage of the air travel process.
The plan addresses challenges of restarting air travel in the exceptionally hard-hit airline industry in Latin American, where many countries have restricted or prohibited international air travel.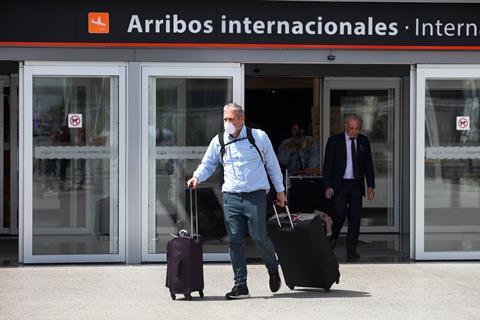 Peter Cerda, IATA vice-president in the Americas, says Latin America has only "three markets with limited air travel" – Brazil, Mexico and Chile, though Chile allows only domestic flights.
The region's countries have also set differing reopening dates. Some are in May, others in June. Argentina, a standout, has suspended air travel until September.
IATA representatives spoke last week with Argentine officials, urging reconsideration. "We were able to share with them our concerns," Cerda says, noting more talks are scheduled for next week. "They were open to work with the industry."
IATA predicts Latin America's air travel industry will recover "more slowly" than most of the region's economies. "If the grounding continues beyond June we are going to see many airlines financially unable to restart their operations," says Cerda.
The group's Latin American air travel restart plan calls for expanded use of technologies like electronic boarding passes, mobile check-in, home baggage tagging and biometric screening – measures that can help reduce person-to-person interactions, says IATA manager of security and facilitation in the Americas Alejandro Restrepo.
The group recommends flight attendants wear masks and that airlines implement orderly boarding processes that "consider physical distancing needs". It suggests airports temperature screen arriving passengers and that countries streamline immigration processes.
To reduce personal interactions, some airlines might restrict carry-on baggage, or reduce or eliminate onboard services, says Restrepo.
IATA is not calling on airlines to block middle seats, and says government requirements to do so could "fundamentally shift the economics of flying by slashing load factors".
"The available evidence that we have suggests that the risk of the virus transmission onboard aircraft is low, even without special measures," says Cerda.
High-flow onboard air systems use high-efficiency particulate air (HEPA) filters, and cabin air tends to flow from the ceiling to floor, making cabins "less conducive to droplet spread", Cerda says.
Also, he notes, passengers face forward, meaning they have little face-to-face interaction, and seat-backs act as barriers. Additionally, even with blocked middle seats, passengers might still be seated closer than social distance recommendations, which are typically about 1-2m, Cerda says.
Last week, University of Washington School of Public Health dean Hilary Godwin warned lawmakers of coronavirus transmission on aircraft.
Keeping passengers and crew safe on aircraft "will be inherently challenging because airplanes are enclosed spaces where potentially large numbers of individuals are in close contact with each other for extended periods of time, which are the conditions under which human-to-human transfer is most likely to occur", Godwin said during a Senate hearing.
Her recommendations included that airlines ensure "social distancing during flight… through selective assignment of seats".