Demand for air travel is unlikely to reach 2019 levels until 2024, according to revised figures from IATA, which cites "unexpectedly weak" traffic during the restart of services.
"The good news is… we saw a further rise in air travel globally in June, the second consecutive month from the April low point," said IATA chief economist Brian Pearce during a briefing today. "The bad news is that rise was barely visible. It was disappointingly and unexpectedly weak."
Slow virus containment in the USA and developing economies is a key factor in this slower recovery, while rising business confidence is not necessarily translating into rising consumer confidence, the industry body notes of June figures, as potential airline customers grapple with employment, health and economic uncertainties.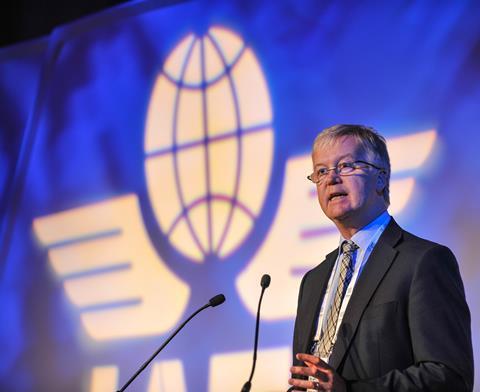 IATA also again highlights the slow recovery of business travel – a crucial market for many network carriers – and the impact of decisions that put up barriers to flying, such as governments requiring travellers from some countries to enter quarantine upon arrival.
As a consequence of these factors, global revenue passenger kilometres were down around 87% in June versus the same month in 2019 – a much worse outcome than IATA had expected.
As a result, it now predicts traffic measured in RPKs will be down 63% in 2020 – more severe than the 55% it had previously forecast.
In 2021, RPKs are expected to be 36% down on 2019 levels.
RPKs are therefore now unlikely to return to 2019 levels until 2024, Pearce states, rather than 2023, as IATA had previously forecast.
Passenger numbers are expected to have recovered by 2023, instead of 2022 as previously forecast.
The difference in recovery timeframes between passenger numbers and RPKs reflects how much more slowly long-haul travel – a vital source of income for many carriers – will come back, IATA says.
"The downside risks are significantly greater," Pearce adds of the outlook through to 2024, noting that the forecast is based on a vaccine becoming available in the second half of 2021.
There are also downside risks in the shorter term, with IATA warning that airline schedules are outpacing expected demand, meaning flight cancellations are likely in August. Airlines are therefore "burning cash" because capacity is being introduced to the market too quickly, Pearce states.
The only improvements in demand during June were "very narrowly based around the rise in domestic air travel", but in international markets there has been "almost no improvement at all", says Pearce.
One of the few bright spots was the Chinese domestic market, where RPKs were down around 36% year-on-year in the month.
US domestic RPKs in June were up at around 80% down year-on-year, but "the renewed surge of Covid cases has rather knocked that back", Pearce says.
International travel was down between 96% and 98% in RPK terms.
Meanwhile, load factors were still at "all-time lows for the month", Pearce says of June, with international load factors at less than 40%, and domestic at around 63%.
At the same time, break-even load factors have risen because of the higher costs that come from issues such as lower aircraft utilisation and slower turnaround times, according to Pearce.