Commercial aviation association IATA has strengthened calls for Latin American governments to assist their respective airline industries in order to help them survive the coronavirus crisis that has brought the sector to a near-standstill.
IATA, which represents 290 airlines worldwide, on 15 June strongly urged governments in Latin America to intervene on behalf of the industry and the 7.2 million jobs that it supports across the region.
Air traffic fell by about 96% in Latin America and the Caribbean as the coronavirus pandemic reached its peak in April, and has yet to make any significant steps toward recovery.
"This is our last chance to survive this crisis," says Peter Cerda, IATA regional vice-president for the Americas. "Time is against us and every day that goes by places more agony on an industry that is seeking clarity on timelines to restart operations. No sector has the liquidity to stay afloat during a four- or five-month standstill. We recognise the efforts made by the authorities in fighting this pandemic and we understand what countries are facing, but air transport is essential for our region and cannot be allowed to disappear."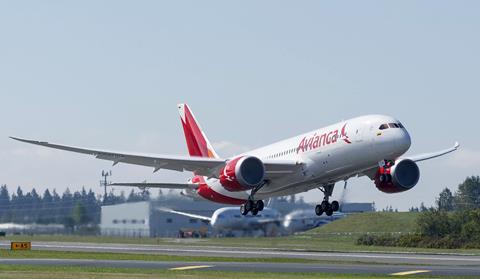 Latin American governments have been much less forthcoming in their support for the commercial aviation industry tshan those in other areas, such as North America and Europe. Billion-dollar aid packages in those regions have helped airlines stay afloat, at least temporarily, and reorganise their operations after passenger demand dropped off sharply. Despite recent positive trends and a slow easing of travel restrictions, airlines are still burning through millions of dollars every day. Without the aid, they would likely have had to lay off thousands of employees or shut down completely.
This is not the first time IATA has highlighted what it describes as the region's sluggish and uncoordinated reaction to the pandemic, as well as its luke-warm handling of plans to re-start air travel operations. In May, IATA said that governments had provided less than 1% of the airlines' 2019 operating revenue in financial aid, making it the least-supportive region in the world.
At the moment, much of South America continues to have stark travel restrictions in place, with most countries planning to reopen in coming weeks. Notable outliers are Colombia and Argentina, which have basically halted passenger air transport operations until 31 August and 1 September, respectively.
IATA also says the countries should begin to relax quarantine requirements, congruent with other regions, so that the industry can begin taking steps to recover some of the ground it lost. "Such restrictions severely hamper economic activity by effectively blocking travel, which is essential for the counties of Latin America and the Caribbean that are heavily reliant on tourism," the organisation writes.
This, even though coronavirus infection numbers in Brazil, for example, are surging. The most populous country in South America has reported the second-highest number of cases and deaths after the United States.
Two of the continent's major airlines, Colombia's Avianca and Santiago, Chile-based LATAM Airlines last month filed for Chapter 11 bankruptcy in the US as they look to rebalance debt and protect themselves from creditors. Analysts say these two were the first but may not be the last carriers on the continent to seek such protections as the countries also deal with general economic weakness as a result of the pandemic.
Supporting airlines is a difficult political proposition for most Latin American nations, even though in the past few years air travel has become more of a public service. Low-cost carriers have begun to bridge vast distances across the continent where ground-based transportation networks, infrastructures and systems are sometimes unreliable. They offer the possibility of connecting far-flung regions much faster by air at a price point that appealed to a larger swath of the population.
Avianca's pilots' union ADPA says on 15 June that political squabbling is hindering the reopening of the El Dorado Luis Carlos Galan Sarmiento International airport in Bogota, Colombia's major hub, and it urged authorities to reassess the risks in order to save the industry in that country.
"We observe that many countries affected by this crisis are already starting commercial flights, based on the low risk of transmission of the disease in the passenger cabins of aircraft and the high capacity of traceability on users, especially when a suspicious or positive case is detected," Leonardo Roldan Hernández, vice president of the pilots' union, says. This kind of tracing is virtually impossible in ground-based transport such as taxis, buses and subways, he adds.
The industry supports 600,000 jobs in the travel and tourism sector in Colombia alone, ADPA says, and many of those jobs could be at risk if the crisis drags on longer than three months. "If the restrictions are extended, job losses and the decrease in the contribution to GDP will have a major impact on the country's economic and social recovery."
Last week IATA joined four other international associations representing airlines, airports, air navigation services providers, travel and tourism suppliers and related sectors in calling on the region's governments to quickly implement the ICAO's global guidelines for restoring air connectivity. The document lays out a plan to keep the travelling public and crews safe during this time.