IATA has warned governments must be ready to provide support to counter the impact of travel bans implemented to counter the coronavirus outbreak, warning measures such as the ban imposed by the USA were not included in its recent worse-case scenario for the financial hit to the industry.
US President Donald Trump in an 11 March Oval Office address announced his government will halt all passenger travel and cargo transport from Europe for 30 days, beginning on 13 March.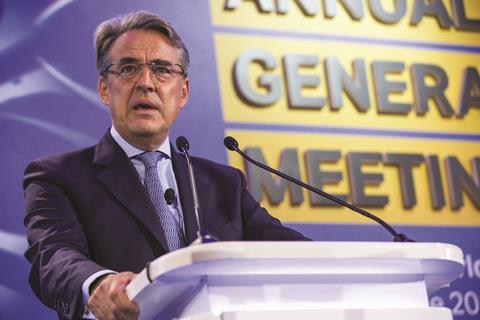 The ban applies only to foreign nationals who have been in certain European countries encompassing the Schengen agreement for 14 days before their scheduled arrival in the USA, he says. It does not apply to US citizens, permanent residents or immediate relatives of citizens.
It follows similar travel restricting measures introduced in Israel, Kuwait and Spain.
"These are extraordinary times and governments are taking unprecedented measures," says IATA director general Alexandre de Juniac.
"Safety – including public health – is always a top priority. Airlines are complying with these requirements. Governments must also recognise that airlines – employing some 2.7 million people – are under extreme financial and operational pressures. They need support."
The association is urging government to weigh up the financial implications of such action as well as whether it is in line with the World Health Organisation (WHO) guidance – which it notes continues to advise against the application of travel or trade restrictions to countries experiencing outbreaks.
"We urge the US and other governments that have placed travel restrictions to follow the WHO guidance," says de Juniac. "This is fast evolving. Health and safety are the top priorities for governments and the air transport sector. But the effectiveness and necessity of travel restrictions must be continuously reviewed."
When taking such measures, IATA is urging governments to prepare for the adverse economic impact that they will cause. It notes the dimensions of the US-Europe market are enormous.
"Governments must impose the measures they consider necessary to contain the virus," says de Juniac. "And they must be fully prepared to provide support to buffer the economic dislocation that this will cause.
"In normal times, air transport is a catalyst for economic growth and development. Suspending travel on such a broad scale will create negative consequences across the economy. Governments must recognize this and be ready to support."
IATA had already raised its initial expectations of how big an impact the outbreak could have on the airline industry this year. Notably its 5 March worst-case guidance – which suggested $113 billion could be wiped off airline revenues in 2020 – and this did not account for measures subsequently put in place by the USA and other governments.
"The US measures will add to this financial pressure. The total value of the USA-Schengen market in 2019 was $20.6 billion," IATA says. It notes the markets facing the heaviest impact are USA-Germany ($4 billion), USA-France ($3.5 billion) and USA-Italy ($2.9 billion).
"This will create enormous cash-flow pressures for airlines," warns de Juniac. "We have already seen Flybe go under. And this latest blow could push others in the same direction.
"Airlines will need emergency measures to get through this crisis," he adds. "Governments should be looking at all possible means to assist the industry through these extreme circumstances. Extending lines of credit, reducing infrastructure costs, lightening the tax burden are all measures that governments will need to explore.
"Air transport is vital, but without a lifeline from governments we will have a sectoral financial crisis piled on top of the public health emergency," says de Juniac.