Airline and aviation groups are calling on Latin American and Caribbean governments to ditch Covid-19-related travel restrictions, saying the region's aviation industry cannot recover with restrictions in place.
"We can only expect a full recovery of aviation and all the industries that depend on it if Covid-related restrictions and requirements are removed," airline trade group IATA says on 19 May.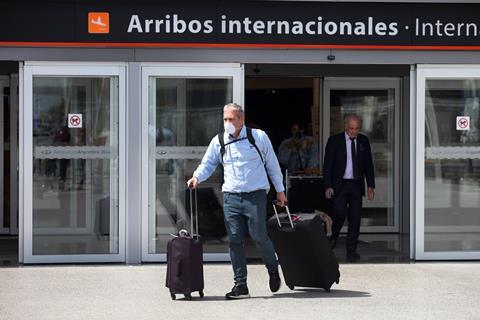 Other organisations supporting the position include the Latin American and Caribbean Air Transport Association, Airports Council International and air traffic management trade group CANSO.
Though some of the world's countries have lifted or eased travel restrictions in recent months, many restrictions remain effective in Latin America and the Caribbean, the groups say.
They call on governments in those regions to lift "all remaining" Covid-19 travel hurdles, including virus-testing prerequisites, vaccine and Covid-19 travel insurance requirements and, on some routes, mandates requiring passengers wear face masks.
The groups note Covid-19 is now "pervasive throughout Latin America and the Caribbean", and that cases of serious disease have declined to due widespread "population immunity".
"It has been proven that those countries without testing requirements are the ones where air transport is recovering faster," they say.
The pandemic hit Latin American airlines especially hard because many countries in the region effectively closed themselves from the globe during the pandemic. Also, unlike elsewhere, many Latin American government did not provide airlines with pandemic-related financial aide.