Indian low-cost carrier IndiGo is cautiously optimistic about 2021 but warns that market conditions remain volatile.
The carrier hopes that New Delhi will lift existing domestic capacity restrictions of 80%, which will help it boost aircraft utilisation and thus drive down CASK.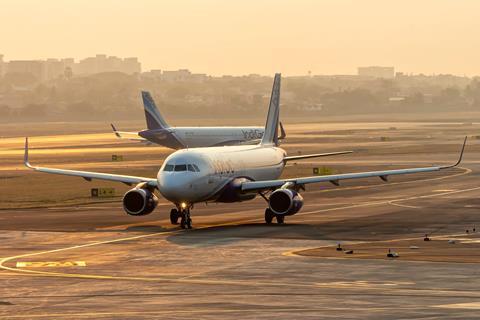 "It is a very volatile environment," says chief executive Ronojoy Dutta. "We get a period of strong revenue lasting for about six weeks, followed by a period of weak revenue lasting for about four weeks. This volatility is partially driven by the fact that capacity is being added without the full benefit of the longer booking period that we are historically used to."
Another challenge is news flow around the coronavirus pandemic. Dutta notes that news of a new, more infectious virus strain in the United Kingdom hurt bookings in the second half of December and the first half of January.
"[Bookings] are news flow dependent. If the market is quiet and there is no big news, then revenue is strong. Absent a big South African mutation or something…we're quite optimistic with the market's ability to absorb additional capacity. So, we've been talking to the government, and urging them to take us to 100% of capacity as quickly as possible. We are very confident that this would be a good thing," says Dutta, who was speaking with analysts following the release of the carrier's results for the third quarter of its 2020 financial year ended 31 December 2020.
The airline swung to a pre-tax loss of Rs6.2 billion ($85 million) for the period, with revenues halving to Rs51.5 billion. Passenger traffic was down 41% on 51% lower capacity. Load factors were at 72%.
Despite the pandemic, the airline has been able to keep CASK under control, with third quarter CASK of Rs3.68 compared with Rs3.69 a year earlier. CASK ex-fuel, however, was up 22.2% to Rs2.93.
Dutta also notes that the collapse in international travel remains a significant challenge for the airline.
Also speaking during the call, chief financial officer Peer Mohamed said that the company's balance sheet remains strong, and that IndiGo has "several options" for debt financing should it be necessary. The airline expects, however, that internal sources of funding are sufficient, and it has decided not to raise funds.
Total cash on 31 December 2020 stood at Rs183 billion, down just 8.5% from Rs201 billion at the end of 2019, prior to the onset of the pandemic.
The airline's fleet stood at 287 aircraft at the end of 2020, comprising 120 Airbus A320neos, 111 A320s, 30 A321neos, and 26 ATRs. This is thirty more aircraft than at the end of 2019.