IndiGo has posted a loss from operations before exceptional items and tax of Rs11.9 billion ($160 million) for the second quarter of the 2021 fiscal year ended 30 September as it focuses on managing the Covid-19 crisis and looks towards the "promise of the future".
The Gurugram-based carrier's net losses also increased 11.2% to Rs11.9 billion, on revenues that were 64.5% down to Rs30.3 billion. Of these, Rs27.4 billion was revenue from operations and the remainder came from other income.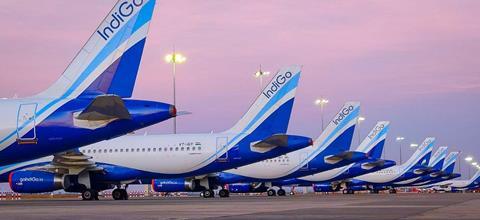 IndiGo's free cash declined 19.9% to Rs69.7 billion, while restricted cash increased 9.3% to Rs110 billion. Total cash dropped 4.3% to Rs179 billion. Total debts, meanwhile, increased 28.1% to Rs254 billion.
ASKs were down 63.3% year-on-year to 8.9 billion and load factors declined 18.5 percentage points to 65.1%. However, yields increased 8.9% year-on-year to Rs3.83.
"We are pleased that we are slowly but surely stair-stepping our way back to normal capacity. While we are very much focused on managing the crisis of the present, we are also reimagining the promise of the future. Once we are back at 100% capacity, we will have lower unit costs, a stronger product, a more efficient fleet and a robust network. We are impatient for the arrival of the future," says Ronojoy Dutta, IndiGo's chief executive in a statement accompanying the results announcement.
The airline adds in its results announcement that it has taken "several actions" to mitigate the effect of Covid-19 on its business. These include reducing its unit costs and increasing its liquidity by making its fleet more efficient by substituting older Airbus A320ceos with A320neos, as well as prioritising flying the latter over the former. It has also put on hold "discretionary expenses", deferred "certain capital expenditures" and sold and leased back its assets.
Chief financial officer Aditya Pande said in a 29 October earnings call: "We have got seven more ATRs that we are going to put on an SLB structure in the current quarter. What we've done so far are four ATRs and three Ceo planes that we own."
Speaking on the same earnings call, chief executive Dutta says the airline always had a plan to return its Ceo aircraft and is still on track to do that, returning some 30 to 40 aircraft a year.
"We're returning them as fast as we can, but according to our old plan," he says, praising the airline's operations, maintenance and aircraft finance teams, which he says have "done a great job".
He adds that IndiGo is "not doing any major renegotiations" with Airbus, although there is some "push-pull" every month between IndiGo and Airbus on the timeframe of individual aircraft deliveries.
"But largely we are on track, so our fleet plan is very stable and we are proceeding according to our plan," he says.
As at 30 September, IndiGo had a fleet of 282 aircraft, including 22 owned or on finance lease, and 260 on operating lease. These comprise 116 A320neos, 117 A320s, 24 A321neos and 25 ATRs. At the same time last year, IndiGo's fleet totalled 245 aircraft.
Like many airlines, IndiGo is pinning some of its international recovery hopes on the formation of travel bubbles.
"More countries are coming in to the bubble flights," says Dutta. "Bangladesh just opened. We are hoping Nepal opens and we are pushing the government to include more and more…Hoping that after November, things will open up more aggressively."