Indian low-cost carrier IndiGo views its dominance in India's domestic market as a key element in its international growth strategy.
As the world emerges from the coronavirus pandemic, IndiGo has all but entirely restored its pre-pandemic international network, apart from destinations in China, Hong Kong, and Myanmar. From 2024/25 the airline will start receiving the Airbus A321XLR, allowing it to capture non-stop international destinations now served only through hubs, such as Dubai.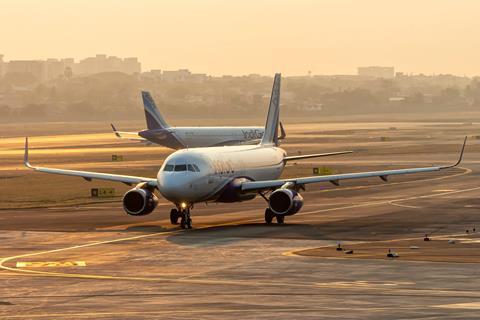 "The reason we are enthusiastic about our [international] network is that it is very different from everyone else," says IndiGo chief executive Ronojoy Dutta. "When we go international to places like Nairobi or Milan with one flight, unless we're competing with Air India, we're taking traffic away from Dubai or Singapore."
Dutta made the remarks during a call with analysts about the carrier's results in the three months to 30 June – the first quarter of its 2023 financial year. It was Dutta's last appearance on the call, as he is retiring in September, to be replaced by former KLM head Peter Elbers.
Dutta notes that owing the Covid-19 restrictions, India's domestic market – in which IndiGo has 58% market share – started recovering before the international market, which was hamstrung by pandemic-related travel restrictions.
"The domestic market leads to international strength, but international strength does not lead to domestic strength," he says. He notes that in the US context big international players such as Pan Am and TWA faded owing to a lack of domestic strength.
IndiGo, on the other hand, has a strong domestic foundation to build on. He adds that connecting traffic is growing well across its network, and newer short-haul routes are doing very well, enticing passengers away from train journeys as short as four hours.
He says the carrier is particularly effective at operating into second tier Indian cities, as opposed to fighting on the fiercely competitive "metro-to-metro' services between key cities such Bengauru, Delhi, Hyderabad, and Mumbai.
On the Indian market situation, Dutta says that IndiGo's aim is to get load factors up to the 87% level – in the first quarter load factors were 79.6%, up 20.9 percentage points from a year earlier. While he says the market is generally "rational", he hints that some carriers are cutting ticket prices to beef up load factors.
"Ultimately, people can get high load factors, but they have to worry about costs. It's true that some carriers are smacking us on price or getting high load factors. But at what cost? You could say that they don't care about the costs at this point yet, maybe. But in the long run they'll have to."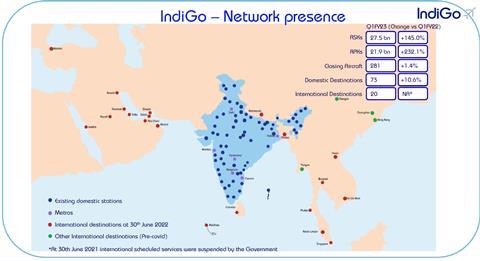 Dutta is also upbeat on prospects in the cargo market, with the carrier's first pair of four A321Fs to arrive in October.
"If we look at the [cargo] numbers month over month, week over week, it's not a rapid growth, but lines are point upwards, and we see lots of opportunities. Bangladesh, Vietnam, and China are great locations for [cargo] traffic."
As for A320s that were converted to temporary freighters during the pandemic, all have returned to passenger use.
Dutta believes that IndiGo's challenges are mainly external around areas such as fuel and geopolitics, and that he is confident of an eventual return to profitability following losses during the pandemic.
The carrier struggled with foreign exchange losses and the fuel prices in the first quarter. Although it narrowed its net loss to Rs10.6 billion ($134 million) from Rs31.7 billion a year earlier, it would have turned a profit of Rs3.6 billion if not for foreign exchange woes.
"Our challenges and problems are all macro, not micro such as internal issues, demand…it's all fuel, geopolitics, dollars and so on. For all other measures, we look very covered. We have a lot of faith that Indian markets are going to grow, and going to grow strongly."