Japan Airlines (JAL) and All Nippon Airways (ANA) have offered differing near-term outlooks, despite being profitable in their nine-month earnings, and making good progress in recovery following Japan's border reopening.
In its profit guidance for the year to 31 March, ANA parent ANA Holdings revised upwards its operating profit forecast, on the back of continued demand recovery across its network, especially on international operations.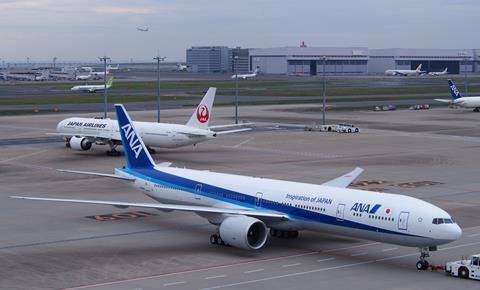 "[In] international passenger services, business demand and inbound demand have continued to recover following the relaxation of Japan's border control measures, and demand has been firm in domestic passenger services due to the support of the nationwide travel subsidy program," the company adds.
It now expects to report an operating profit of Y95 billion ($738 million), up from earlier forecasts of Y65 billion. Revenue forecast for the full new year now stands at Y1.71 trillion, versus previous estimates of Y1.7 trillion.
Compatriot JAL was more downbeat, lowering its full-year profit estimates to Y50 billion, against previous estimates of Y80 billion. It also trimmed its full-year revenue forecast from Y1.4 trillion to Y1.36 trillion.
The Oneworld carrier blamed the "slower recovery of business [travel] demand", as well as a softening of cargo demand, for the lowered forecast.
The domestic travel subsidy programme, which has helped shore up demand for ANA, had a "limited effect", JAL adds.
"Although [there are] only two months left in the current fiscal year, we will continue to make our utmost effort to further improve our profitability," the airline states.
ANA, JAL SWING TO BLACK
The profit guidance were disclosed alongside nine-month earnings, which saw both ANA Holdings and JAL return to profitability as travel restrictions eased in Japan.
For the nine months to 31 December 2022, ANA Holdings reported an operating profit of Y99 billion, reversing the Y116 billion loss it posted in the previous year.
Group revenue for the period rose 70% year on year to about Y1.3 trillion, led by a significant spike in international travel revenue following Japan's border reopening in October 2022.
ANA's international business saw passenger numbers rise five-fold to 2.8 million, with capacity up 66% year on year. International passenger revenue was up six times year on year to Y290 billion.
Domestic operations also held up well: passenger numbers for the nine-month period rose 88% year on year, with revenue increasing 90% to Y392 billion.
Expenses for the period rose 36% to Y1.2 trillion, in line with an increase in operations, along with rising fuel costs.
As for JAL, it eked out a nine-month operating profit of Y33.9 billion, reversing the Y173 billion loss in the previous year.
Revenue for the nine-month period doubled to Y1 trillion, international passenger revenue seeing the largest increase. JAL saw the number of passengers increase more than five-fold year on year to 2.95 million, with RPKs seeing a four-fold jump.
JAL states: "On international routes, the number of passengers arriving in and departing from Japan is gradually recovering especially for inbound passengers, drastic relaxation was conducted from mid-October including the exemption of temporary visitor visas formerly required for tourism purposes."
Nine-month costs rose 43% to Y990 billion, with fuel costs doubling year on year.
Meanwhile, both carriers' cargo operations were seeing a slowdown in demand. JAL says its international cargo business saw demand drop, though it points out that "demand and unit prices for our company remained strong".
ANA Holdings adds that international cargo volume declined year on year, on the back of a reduction in capacity, as well as decline in demand for automobile-related parts.