Japan Airlines expects to swing back to the black by the quarter ending 30 September, as passenger travel and cargo segments continue to recover.
The Tokyo-based carrier forecasts a "steady recovery" in travel demand through the summer travel season, particularly in the peak period of July-August.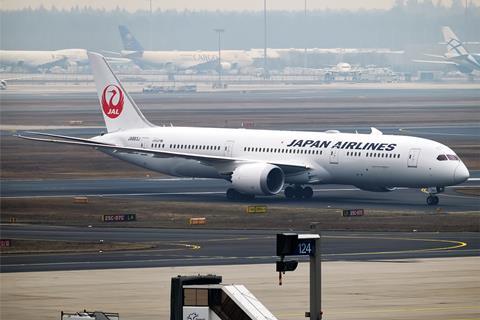 "As the society shifts toward a balance of socio-economic activities and Covid-19 prevention, both international and domestic passenger demand have been steadily recovering. There still exists various uncertain external environments including the Russia-Ukraine situation or price hike of raw materials including fuel," the carrier states.
In an apparent reference to the operational woes confronting carriers in Europe and the USA, JAL adds that it has "no major concerns about our resources", which it defines as its fleet and manpower, in the ramp-up for the summer travel period.
The carrier disclosed its forecast as part of its quarterly financial results, where it narrowed its losses for the three months to 30 June.
During the period, JAL posted an operating loss of Y30.2 billion ($231 million), an improvement on the Y76.8 billion operating loss disclosed in the same quarter last year.
Revenue jumped two-fold year on year to Y268 billion, led by a sharp uptick in international travel takings, which was five times higher compared to 2021. Cargo and mail revenue, meanwhile, rose about 37% year on year.
"Passenger demand that had decreased significantly by the COVID infection was on a recovery trend again in this first quarter due to the advancement of vaccination and adjustment to a post-COVID lifestyle," says JAL, noting that the easing of entry restrictions globally, coupled with the broadening of arrival caps into Japan, helped lift revenue.
As for costs, the Oneworld carrier reported a 41% increase, due mainly to a two-fold jump in fuel-related expenses.
When compared to the same quarter in pre-pandemic 2019, group revenue was down 23%, while costs only dipped 8%.
The carrier maintains its forecast of a full-year operating profit, though it states that it is closely monitoring the effects of the current of coronavirus infections.