Japanese start-up Zipair is positioning itself as a mid- to long-haul carrier and has plans for transpacific flights.
The Japan Airlines subsidiary, which aims to operate a fleet of 10 Boeing 787s, notes the Dreamliner's status as a best seller among major Japanese and US carriers. As such, the ease of procurement and maintenance makes it a good choice for transpacific routes, it said during a joint media briefing with Boeing at the Singapore air show.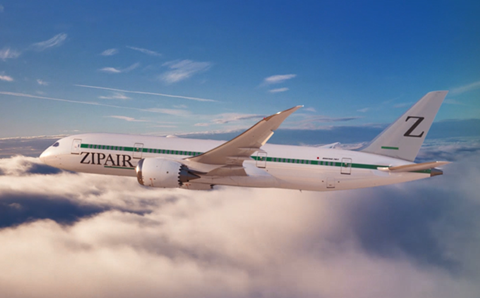 Zipair aims to be the first low-cost carrier to operate the sector, after it obtains ETOPS certification. It meets the criteria on two of three fronts – maintenance and flight management, by virtue of tapping on JAL resources – and is working on pilot training.
Prior to that, the Tokyo Narita-based airline will launch in May, first with Bangkok flights, followed by a Seoul service from July.
Zipair says it aims to become a "new basic" class of carriers, one that sits between the low-cost and full-service categories that have the aviation industry "polarised".
"As a mid- to long-haul carrier, I don't want our customers to feel exhausted by our flights," says Zipair president Shingo Nishida.
The carrier recently unveiled the interior of its first 787-8, transferred from parent JAL.
Elaborating on that, it states that doing away with monitors and using synthetic leather for its seats reduced the aircraft weight by 500kg – equivalent to a 29% reduction per passenger – despite an increased number of seats.
Nishida tells Cirium that Zipair currently has two 787s transferred from JAL. Its target of 10 787s by 2024 still holds and, broadly, it expects to receive two aircraft from JAL each year.
"Currently we are recruiting pilots for the third aircraft onwards… In spring 2021, Zipair will receive its third aircraft."