India's Jet Airways could be flying again in as little as four to six months after its creditors approved a bid from entrepreneur Murari Lal Jalan and asset management firm Kalrock.
"The expectation is that in the next four to six months one should be able to see Jet back in the skies again," the airline's resolution professional Ashish Chhawchharia tells CNBC-TV18 in a 19 October interview.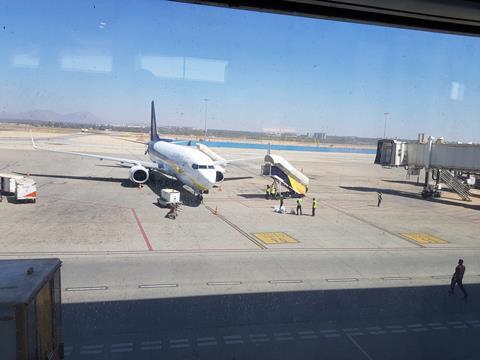 Before that can happen, he adds, the airline needs approval from the National Company Law Tribunal, which adjudicates issues relating to Indian companies. It also needs slots and traffic rights to be allotted by the Ministry of Civil Aviation.
"We need to file for the NCLT's approval, who will check the mandated compliance of the plan and whether the process was carried out properly or not and once they give the approval, that's when, you know, the implementation steps would start," he says.
He adds that Jet Airways expects to be able to get back the slots "which were earlier enjoyed" before the carrier went bust.
Regarding the airline's fleet, Chhawchharia says the airline now owns "about 12 aircraft", with "a couple" outside India. The rest, he says, are in India under his custody.
In August, Jet made a bullet payment of $13 million to the lessors of six Boeing 777-300ERs so that it could take ownership of the aircraft and their engines.
Cirium fleets data indicate the airline has 11 aircraft in storage, including six 777-300ERs, two 737-800s, one 737-900 and two Airbus A330-200s.
"The revival plan [the new potential owners] have laid out involves a staggered growth. They will need to bring in more aircraft as they grow and these aircraft which currently remain with Jet are largely the widebody aircraft that are used for long-haul," he says.
He adds that the airline may use 737s or Airbus jets for domestic flights, without specifying the type.
"Those are the ones required mainly for domestic flights between one to five hours stage length, as we call it, so they have plans to bring in more modern aircraft and slowly ramp it up over a period of time," he says.
Chhawchharia was coy about details on the potential new owners' plan, but said it is "broadly speaking… a well-laid-out business plan which has been vetted by advisors who have looked at what the steps are going to be going forward".
A management team has been put in place that would be directly responsible for implementing this, he adds. The new Jet Airways – which he calls "Jet 2.0" – will seek to revive interline agreements with airlines with which it previously had such agreements.
"I know they have spoken to a few of them already and they have an in-principle understanding," he says.
Chhawchharia is pleased the airline is finally sold upon the fourth attempt, but adds that there is still work to be done before the airline can take to skies again.
"It's not a surprise but, certainly it's very pleasing. It's been a long journey, it's been a difficult journey for me and my team who have worked tirelessly through this period, so I think we are very happy we have achieved this very significant milestone where the committee of creditors in their commercial wisdom have selected one revival plan," he says.
"After three rounds, we had some 12 or 13 bidders – potential resolution applicants – in the past, but we couldn't secure a plan. But the fourth time around, when the pandemic hit the aviation sector – despite that we are able to get not one but two interested applicants, and one of them has now been chosen as the preferred option. So yes, it is particularly pleasing to be where we are today, but it's not time to sit back. We still have things to do."