JetBlue Airways has come out swinging against Spirit Airlines after launching its hostile takeover plan in an attempt to beat out Frontier Airlines in the increasingly bitter tug-of-war for the Florida-based ultra-low-cost carrier (ULCC).
At an investor conference on 17 May, JetBlue chief executive Robin Hayes accuses Spirit of bad faith after the New York-based carrier expressed interest in acquiring the airline.
The Miramar, Florida-based ULCC showed "minimal engagement" with JetBlue, Hayes says, leaving him frustrated and angry.
"Any rational, reasonable board" should have welcomed a competing offer to the one submitted by Frontier, especially an offer with such "strategic logic".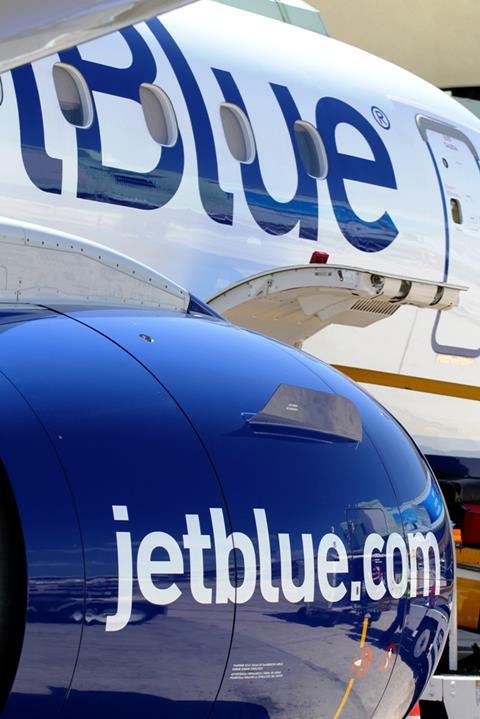 "Our proposal is clearly superior and we are passionate about bringing our award-wining product and low fares to customers throughout the country," Hayes says. "The proposal has the potential to deliver more value and more certainty for all the stakeholders of both companies."
Spirit's board, however, does not agree with this assessment, and has asked shareholders to approve Frontier's offer in a vote next month.
Earlier this week, JetBlue filed a "Vote No" proxy statement against what it calls the "inferior, high-risk and low-value Frontier transaction", attempting to convince Spirit's shareholders to reject the bid from the Denver-based airline.
The drama began on 7 February, when Frontier made a $2.9 billion proposal for its ULCC rival in cash and shares. In April, JetBlue countered with an unsolicited all-cash bid that was worth $3.6 billion, or $33 per share. JetBlue's plan had Spirit folding into its own operations, dismantling Spirit as a ULCC, and using Spirit's assets to expand JetBlue.
In the meantime, JetBlue revised its offer down to $3.3 billion, or $30 per share, while giving assurances about its own legal and anti-competition questions.
A JetBlue-Spirit combination, Spirit's board has said, would likely be opposed by antitrust regulators, noting that JetBlue is already under regulatory scrutiny for its joint business in New York and Boston with American Airlines. The US Department of Justice has sued to block the JetBlue-American partnership, which the airlines call their "Northeast Alliance".
Spirit has rejected the JetBlue offer, saying it is "not superior", as JetBlue claims, and carries significantly higher risk for Spirit shareholders due to legal wrangling. The airline has now asked its shareholders to approve the Frontier plan on 10 June, and JetBlue is attempting to hinder that.
Hayes says, though, that the outcome of the Northeast Alliance lawsuit is a "moot point".
JetBlue had been eyeing Spirit for years, Hayes adds, and after Frontier made its bid in February, JetBlue executives knew they needed to respond immediately.
"While it may appear that this decision was one we made quick, there were years of analysis and consideration behind it," Hayes says. The acquisition of Spirit would help create a "bigger, better JetBlue", that can stand up to competition against the larger legacy airlines.
In the face of Spirit's board's rejection, JetBlue "felt we had a responsibility to bring our proposal directly to Spirit shareholders", Hayes says.
"We just want the ability to engage, and have a negotiation the same way Spirit and Frontier have been negotiating for months," he adds. "Ultimately the goal is to give the Spirit shareholders the opportunity to compel the Spirit board back to the negotiating table with us."