As part of its bid to acquire Spirit Airlines, New York-based JetBlue Airways has entered a divestiture agreement to give Spirit's assets at New York's LaGuardia airport to rival ultra-low cost carrier Frontier Airlines.
New York-headquartered JetBlue said on 1 June that Spirit would transfer to Frontier six gates and 22 take-off and landing slots at LaGuardia as part of JetBlue's "upfront commitments included in the merger agreement", giving Frontier a significant addition in the hotly contested New York City metropolitan area.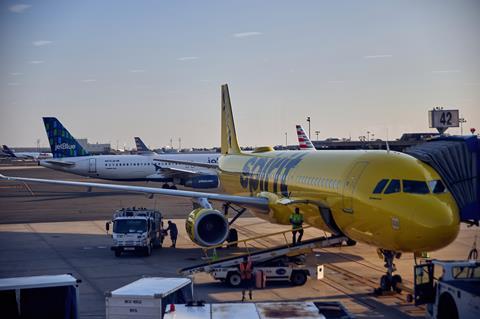 "We are committed to ensuring our combination with Spirit preserves ultra low-cost carrier access in New York," says Robin Hayes, chief executive of JetBlue. "We are pleased that this agreement with Frontier will maintain the same level of ultra low-cost carrier service at LaGuardia Airport."
The divestitures are conditioned upon the closure of JetBlue's proposed $3.8 billion acquisition of Spirit, and would require approval from the Port Authority of New York and New Jersey, the Federal Aviation Administration and the US Department of Transportation.
"We are pleased to have reached this agreement to acquire Spirit's slot pairs and leasehold interests at New York's LaGuardia airport, pending regulatory approval of the JetBlue-Spirit merger," says Barry Biffle, CEO of Denver-based Frontier. "It will enable us to significantly expand our operations at LaGuardia."
Last year, Biffle said that a JetBlue-Spirit tie-up would give his company a cost advantage more favourable than a US carrier has enjoyed for decades, comparing his airline's potential position to "Southwest [Airlines] in the late '80s".
That is because JetBlue's plan would eliminate Spirit as a low-cost competitor, leaving Frontier with a large share of the ultra-discount segment.
However, the acquisition is far from a done deal. In March, the US Department of Justice sued to block the tie-up between JetBlue and Spirit on antitrust grounds, and now the case is set for a court trial in October.
Last year, Frontier offered to purchase Spirit with a mix of cash and stock valued at about $2.8 billion, insisting its offer stood a greater chance of securing regulatory approval. But Spirit walked away from the acquisition proposal in favour of JetBlue's offer.