JetBlue Airways and Delta Air Lines have applied for federal payroll grants in time for the US Treasury Department to ensure quick approval, yet the chief executives of both carriers say they will need to raise additional capital.
The Treasury encouraged airlines to apply by 3 April to ensure quick approval for the $25 billion in grants to use for employee wages, salaries and benefits, warning that applications received after 27 April may not be considered. Conditions of these grants include that recipients may not furlough employees or reduce their benefits through 30 September.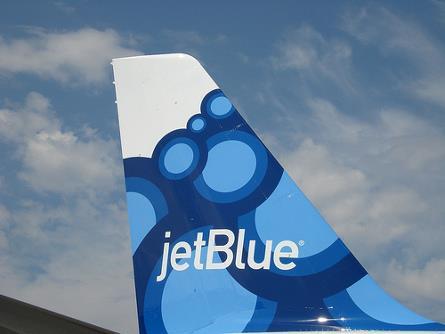 The grants are based on 2019 payroll costs, which JetBlue chief executive Robin Hayes says in statement will not account for the company's growth since then.
"I hope things can move quickly, and we are available this weekend so we can conclude an agreement next week, as time is of the essence," Hayes says in a statement. "With fewer hours for everyone to work and far fewer flights, total pay is likely to go down for both salary and hourly crewmembers. The good news is this law keeps paychecks coming and it buys us time."
The money is badly needed as airlines around the world continue to hemorrhage cash while revenue has basically dried up during the global coronavirus pandemic. JetBlue is spending $10 million daily, Hayes says, while Delta Air Lines chief executive Ed Bastian says his airline is spending $60 million a day, noting "we know we still haven't seen the bottom".
Both Delta and JetBlue will have to maintain enough flights for essential services, as outlined in the Treasury's conditions for receiving grants, and await further guidance from the Department of Transportation.
"This month our schedule will be at least 80% smaller than originally planned, with 115,000 flights cancelled," Bastian says. "I wish I could predict this would end soon, but the reality is we simply don't know how long it will take before the virus is contained and customers are ready to fly again."
Both executives say they are in talks with other lenders to raise additional capital. To preserve cash, JetBlue has announced it will reduce its April capacity by at least 70%, park more than 100 of its aircraft and take other measures, including cutting pay for all executives ranking vice-president and higher.
"Just 7,000 Customers are likely to fly us each day in April and possibly May, compared to the 120,000 we would typically expect," Hayes says.
Delta has likewise taken measures to save cash, which include implementing a hiring freeze, offering voluntary leave to staff and deferring $500 million in planned 2020 capital expenditures along with $500 million in planned 2020 pension contributions.
The Treasury will have the power to revoke funds if airlines violate conditions. JetBlue, Delta and other recipients of payroll grants will be forbidden from buying back stock or paying dividends through 30 September, and annual salaries above $425,000 are to be frozen for two years. Recipients must also provide "warrants, options, stock and other financial instruments to provide appropriate compensation for the government for the assistance".
The federal aid additionally provides options for conditional loans, including $25 billion for passenger airlines and $4 billion for cargo airlines.