JetBlue Airways has appointed Ursula Hurley to be its new chief financial officer.
Hurley, who has been acting CFO since 12 June, will take over the post permanently as of immediately, the New York-based carrier says on 7 September.
Her predecessor, Steve Priest, left the airline in June to pursue other opportunities. He had been CFO since February 2017.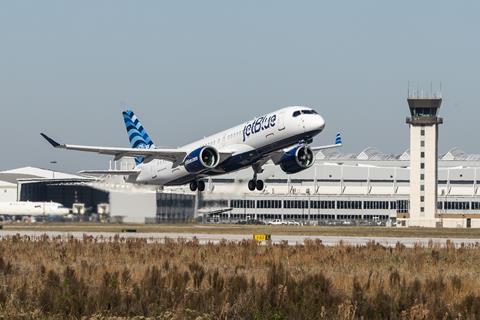 "Ursula has done an incredible job leading us through the pandemic," says JetBlue chief executive Robin Hayes. "With a steady hand, she's raised capital to allow us to weather the challenges and proven to be focused on helping us manage our cost structure. As we emerge from the pandemic, her continued leadership in managing costs will be fundamental to her role."
Hurley has worked for JetBlue for 17 years, most recently as head of treasury and investor relations, which includes responsibility for corporate and aircraft finance, cash management and investments, fleet management, fuel purchasing and hedging, fleet strategy and programs, strategic sourcing and managing JetBlue's relationships with the investor community, the airline says.
She is also president of JetBlue Foundation, which is committed to promoting diversity in science and technical education.
Hurley holds a bachelor's degree in business management from Fairfield University and a Master of Business Administration from Columbia University.