US government attorneys grilled JetBlue Airways chief executive Robin Hayes on 27 September, the opening day of the American Airlines-JetBlue antitrust trial in Boston.
American and JetBlue are defending themselves against a Department of Justice (DOJ) lawsuit seeking to unwind their "Northeast Alliance" (NEA). The DOJ says the deal violates antitrust law.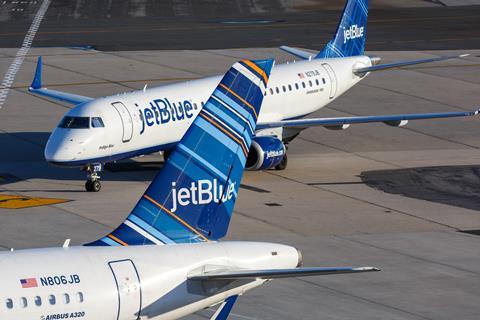 The NEA is a code-share deal under which the airlines also coordinate schedules and share some revenue, primarily for flights at Boston and New York.
On the opening day of the trial, DOJ attorneys sought to present the NEA as similar in structure and function to what are commonly called airline "joint ventures" (JVs).
The three largest US airlines – American, Delta Air Lines and United Airlines – already have JVs with several carriers in Europe and elsewhere. Those deals, which proliferated in the recent decade, typically involve pricing coordination and revenue sharing.
They also require immunity from US antitrust law.
On the stand, JetBlue's Hayes presented the revenue-sharing aspect of the NEA as different from that of traditional JVs. That is because, he says, it is intended to provide "incentive around growth".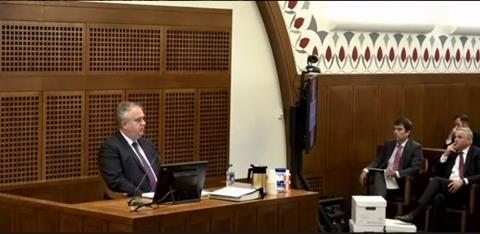 Hayes also stresses that "pricing coordination is absolutely not" part of the NEA.
American and JetBlue revealed the NEA in July 2020, amid the height of the pandemic. By tying up, the carriers say they can expand their presence in Boston and New York and better counter other carriers that already have a large presence in those cities. (Specifically, United and Delta hold large market shares in New York, as Delta also does in Boston.)
The DOJ shot back in September 2021 by suing the airlines in US District Court for the District of Massachusetts. The DOJ is seeking to force the carriers to unwind their alliance, saying it hurts consumers by effectively eliminating a competitor.
Much of the first day of the trial involved discussion about how the NEA is similar and different from JVs. Such points are central to whether it runs afoul of antitrust law.
With Hayes on the stand, US attorneys also highlight past statements in which Hayes described JetBlue as a valuable competitive counter in a highly-merged airline industry – one largely controlled by American, Delta, United and Southwest Airlines. They also noted Hayes previously warned about competitive harm caused by JVs and other consolidation.
Attorneys for both sides made their cases at the start of the trial.
A US government lawyer says the NEA "increases prices to the flying public totaling hundreds of millions of dollars".
"Under the NEA, JetBlue and American will no longer compete" or "undercut" each other, the attorney says. He also notes that JetBlue and American already collectively dominate many routes from Boston and New York, such as those to Philadelphia, Florida and Washington, DC.
An airline attorney, however, calls the NEA a "pro-competitive" agreement, saying JetBlue, even with the NEA, remains a strong competitive force.
"There is no coordination on pricing," the attorney says. "It's all about serving customers, so there are more-frequent flights and more connections."