JetBlue Airways has entered a second divestiture agreement with a rival low-cost carrier – this time, Allegiant Air – as part of its bid to acquire Spirit Airlines.
The New York-headquartered airline disclosed on 11 September that it has entered a "definitive agreement" to transfer "all of Spirit's holdings" at Boston Logan International and Newark Liberty International airports to Allegiant if JetBlue's proposed $3.8 billion acquisition of Spirit is finalised.
Under the agreement, JetBlue would transfer to Allegiant two gates in Boston and two gates and 43 take-off and landing slots in Newark.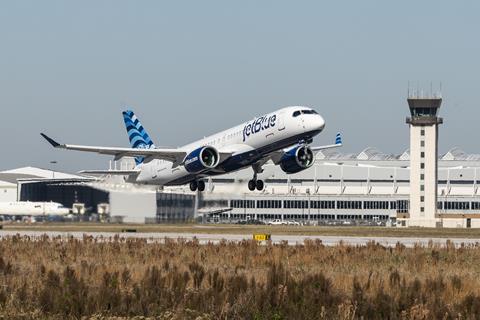 "JetBlue will also turn over up to five gates and related ground facilities at Fort Lauderdale-Hollywood International airport to promote ultra-low-cost carrier growth," JetBlue says, adding that it will work with the Broward County Aviation Department to "facilitate Allegiant's ULCC growth at [Fort Lauderdale] using these gates".
The divestiture agreement with Allegiant is similar to JetBlue's 1 June pledge to transfer Spirit's assets at New York's LaGuardia airport to Frontier Airlines, including six gates and 22 take-off and landing slots – representing a significant gain for Frontier in the highly competitive New York market.
"Together, these divestitures are part of JetBlue's voluntary upfront commitments included in the merger agreement with Spirit and are conditioned on the closing of the JetBlue-Spirit transaction," JetBlue says.
The airline adds that the divesture agreements with Allegiant and Frontier must be approved by the Federal Aviation Administration, the US Department of Transportation and local airport authorities.
Both deals appear to be aimed at appeasing the US Department of Justice (DOJ), which has sued to block the proposed JetBlue-Spirit deal on antitrust grounds. The DOJ is concerned that the tie-up would effectively eliminate a ULCC from the market to the detriment of budget-conscious consumers. The case is set for a court trial scheduled to begin next month.
"Our divestiture commitment, while not needed to ensure the continued growth of the vibrant ultra-low-cost carrier segment, is aimed at removing any doubt of our commitment to promoting competition," says Robin Hayes, JetBlue's chief executive.
Gaining gates and slots in the Northeast USA and South Florida would be a major boost for Allegiant's network. Chief revenue officer Drew Wells says that the Las Vegas-based discounter is "committed to long-term growth, especially in areas such as New York, Boston and Florida".
JetBlue is facing an uphill battle to complete its planned purchase of Spirit, however. In addition to the DOJ lawsuit, a group of air travellers and travel agents is seeking the block the deal in a separate civil case.
The carrier is also working to complete the court-ordered dissolution of its Northeast Alliance with American Airlines following its loss in a federal antitrust trial last year.