JetBlue Airways significantly reduced its loss for the fourth quarter of 2021 as leisure passengers returned to the air in greater numbers.
The New York-based company says on 27 January it would have been profitable but for the Omicron variant of Covid-19, and that 2022 will be "transformational" for the company's bottom line. Omicron, says chief executive Robin Hayes, was a "temporary setback".
The company lost $129 million in the fourth quarter, down from $373 in the final three months of 2020, as the pandemic was still in its first year. For the full year 2021, JetBlue lost $182 million, a fraction of its $1.4 billion loss in 2020.
If not for an $833 million benefit from the US Cares Act and other special items, the airline would have lost $797 million in 2021.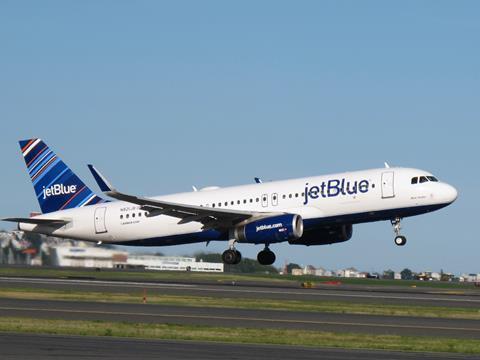 Revenue during the fourth quarter almost tripled to $1.8 billion from $661 million in the same quarter in 2020. For the full year 2021, JetBlue's revenue jumped to $6 billion, from $2.9 billion in 2020. Fourth-quarter 2021 revenue was still 9.7% less than JetBlue logged in the same period in 2019.
"While Omicron has temporarily weighed on demand in the very near term, we expect sequential month-on-month improvement through the quarter, ultimately returning to sustained profitability in the spring and beyond," says Hayes. "Were it not for Omicron, we believe we would have generated higher revenue this quarter than in the first quarter of 2019."
The Omicron surge impacted the Northeast USA – specifically the New York City region, where JetBlue has a massive presence – disproportionately, says chief operating officer Joanna Geraghty. In addition to customer cancellations and "bookings softness" during what she calls "the most-significant revenue weeks of the quarter", the airline suffered crew-related cancellations due to illnesses and quarantines.
"Despite all of these challenges, our underlying revenue performance was very strong, which keeps us optimistic about the future as we continue to ramp up hiring efforts towards a fully staffed operation," she adds.
For the first quarter of 2022, JetBlue expects revenue to be down 11-16% compared to pre-pandemic 2019, reflecting the negative impact from the highly-contagious Omicron variant. But, she adds, booking trends are showing a "sequential month-on-month improvement leading to a profitable Q2 and a very strong summer peak".
LONDON FLIGHTS
Executives say they are pleased with performance of JetBlue's first transatlantic flights, from New York to London. Launched in August, the flights account for 2% of JetBlue's capacity in available seat miles (ASMs).
JetBlue plans also to launch flights between Boston and London but has not given a concrete timeline. The airline is "extremely bullish" its transatlantic flights will continue attracting leisure and corporate travellers.
The carrier expects to take delivery of three more Airbus A321LR aircraft this year, which will join three already flying across the Atlantic. As more long-range aircraft join the fleet, JetBlue expects to expand its European presence beyond the UK, Hayes says.
"We have 26 LR and XLR aircraft coming in the next several years, and at some point we will look at other markets in Europe that we think we could succeed in," he says.
5G ISSUES
JetBlue, which also operates Embraer 190s, has had some issues after two US telecom companies introduced fifth-generation (5G) cellular networks earlier this month. Warning of potential interference with aircraft radio altimeters, the FAA restricted some operations in poor weather at numerous secondary US airports.
Through "alternate methods of compliance" (AMOC), the FAA has deemed about 90% of the US commercial fleet as safe from 5G interference.
But "the E190 has a less-forgiving footprint", Hayes says. "We will have trouble operating E190s in some of our airports" in bad weather.
"That's a very low percentage of flights," he adds "The FAA is telling us that these AMOCs are updated every month as more cell towers get lit up… We are not out of the 5G woods yet."