Operational troubles and too many seats in the USA pushed JetBlue Airways to a $153 million loss in the third quarter of 2023, prompting the airline to trim its capacity.
The New York-based carrier disclosed the results on 31 October, the same day a federal antitrust trial related to JetBlue's bid to acquire Spirit Airlines began in Boston.
"We planned and prepared for several challenges in the quarter, including the wind down of the Northeast Alliance, air traffic control delays and a shift in post-Covid customer demand," says chief executive Robin Hayes. "However, weather-related disruption was significantly greater than expected, and increases in jet-fuel costs also weighed on results."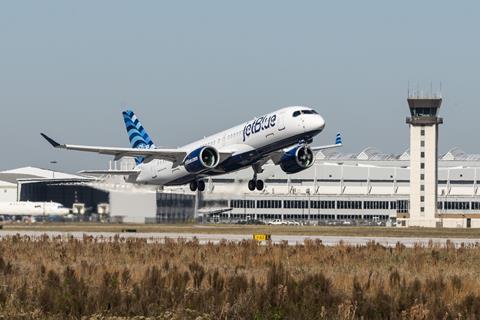 The carrier's $153 million third-quarter loss compares to its $57 million profit during the same period last year. JetBlue's revenue in the quarter declined more than 8% year on year to $2.4 billion, while its passenger revenue per available seat mile sunk 15%. The airline's costs increased 3.5% from the third quarter of 2022.
JetBlue now anticipates full-year 2023 capacity growth of 5-7% year on year, compared with its previous guidance of 5.5-8.5%, reflecting "near-term headwinds, including higher fuel prices and industry capacity that is outpacing domestic demand", Hayes says.
Chief operating officer Joanna Geraghty cited a "challenging operational backdrop" and "softer-than-expected off-peak and leisure demand in September".
"We continued to experience greater-than-expected operational disruption due to unusual September weather – far worse than we've historically seen – coupled with unprecedented air traffic control restrictions," she adds. "In the third quarter, we had 68 days of significant operational disruption, versus 40 days in the third quarter of last year… Often, these events occurred on multiple consecutive days, causing extended delays and cancellations."
Denver-based ultra-low-cost carrier Frontier Airlines reported similar multi-day, air traffic control (ATC)-related disruptions during its 26 October earnings call.
JetBlue's leadership team expects ATC challenges to continue for the foreseeable future, with Geraghty saying the airline is responding by "planning the operation with conservatism" and maintaining "elevated crew reserve levels". Executives hope recently appointed FAA administrator Mike Whitaker will begin addressing ATC staff shortages.
Meanwhile, JetBlue is taking advantage of the Federal Aviation Administration's recent decision to extend slot waivers at busy Northeast airports through October 2024 by cutting capacity in New York. The move aligns with JetBlue's ongoing extraction from the Northeast Alliance (NEA) with American Airlines, which was ordered dissolved by a federal judge this year.
"As we wind down the NEA, we are rebalancing our capacity to better match supply and demand," Geraghty says. "We are meaningfully reducing our footprint at LaGuardia, reallocating this capacity to geographies with stronger performance, such as the Caribbean."
The discount carrier plans to launch new flights to the Dominican Republic, Belize and Saint Kitts and Nevis in the fourth quarter, she says.
Hayes maintains that the airline has the "right building blocks" in place to return to profitability, pointing to slowly recovering profit margins in New York.
"Our large footprint in slot-constrained New York is a key competitive advantage," Hayes says. "New York remains our largest focus city with well over 200 departures per day."
The company's transatlantic flights to Amsterdam, London and Paris are "delivering strong results", though JetBlue is fighting to maintain slots in Amsterdam due to proposed capacity cuts. It also plans to fly seasonally to Dublin and Edinburgh next year.
"For the fourth quarter, our growth will be driven primarily by international [routes] as we proactively work to manage our capacity and reduce schedules in off-peak periods," Geraghty says.
JetBlue has taken 11 new Airbus narrowbody jets in 2023 and expects to receive six more through year-end. In 2024, it expects to acquire a further 28 aircraft – mostly Airbus A220s, which are replacing the carrier's Embraer 190s.
Executives refused to answer questions about an antitrust trail that began the same day in Boston. The trial pits JetBlue and Spirit against the US Department of Justice, which sued to block JetBlue's proposed $3.8 billion acquisition of Spirit on grounds it will reduce competition.
"We look forward to presenting our case to court over the next few weeks, as we strongly believe our combination with Spirit is the best opportunity to disrupt the industry by increasing competition and choice, creating a long overdue national low-fare challenger to the dominant airlines," Hayes says.