JetBlue Airways pilots represented by the Air Line Pilots Association, International (ALPA) union voted to reject a tentative agreement to give the carrier contractual relief for its codeshare with American Airlines, seeking more job security as the airline partnership nears completion.
During the vote representing 92% of eligible union voters, 54% opposed providing relief for the new codeshare against scope clause limits detailed in the union's 2018 collective bargaining agreement with JetBlue. The 2018 agreement stipulates these limits in the event of a joint venture or codeshare.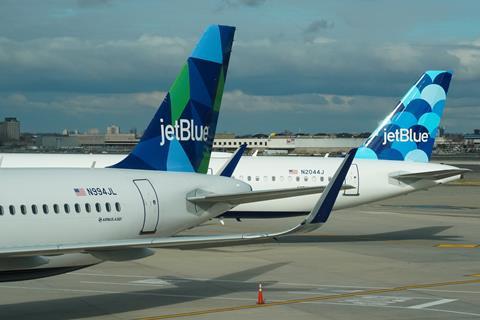 JetBlue offered the union to provide some relief against these limits for the next 10 years in exchange for an additional pay raise and enhanced job security. The union of JetBlue pilots rejected this proposal as insufficient and seeks "contractual assurances that protect our jobs and provide meaningful career improvements", the ALPA chapter chairman Chris Kenney says in a statement.
"JetBlue pilots fought for years to achieve the security provided in our contractual scope, and the pilots are committed to JetBlue's long-term success," Kenney says. "We stand ready to work toward an acceptable resolution of these issues."
American and JetBlue aim to complete the partnership during the first quarter to expand each carrier's presence in New York and Boston, along with international routes operated by American.
Fort Worth-based American and New York-based JetBlue announced the alliance in July and the US Department of Transportation approved the codeshare in January amid concerns from Spirit Airlines and Southwest Airlines that the deal would damage competition.
JetBlue and its pilots' union reached an agreement to avoid involuntary furloughs until May 2021, yet the impending codeshare and the ongoing coronavirus travel downturn have sowed doubts about job security beyond May. American pilots represented by the Allied Pilots Association union have also criticised the partnership and have called for Congress to extend federal payroll support for airlines through September to prevent furloughs at American.