JetBlue Airways generated record revenues but still posted a $192 million loss during the first quarter of 2023, compared with a $255 million loss during the same three months last year.
The loss came despite JetBlue generating revenue of $2.3 billion in the first quarter – a company record – compared with $1.7 billion last year, the carrier said during its earnings call on 25 April.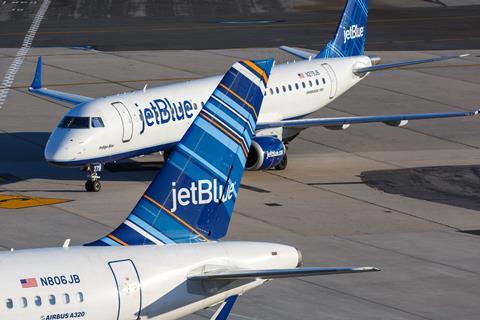 The New York-based airline's quarterly expenses surged to about $2.6 billion thanks largely to rising fuel costs. Operating costs per available seat mile (CASM) increased 12% year-on-year.
Capacity increased 9% year-on-year in the first quarter, however, with chief executive Robin Hayes calling JetBlue's first-quarter results "better than expectations".
"For the second quarter, we expect strong revenue growth to continue as demand remains robust and as we see continued momentum from our commercial initiatives," he says. "We are forecasting a solidly profitable quarter, and we remain confident in our full-year earnings outlook."
It is unclear to what extent the US Federal Aviation Administration's air traffic control (ATC) shortages in the Northeast USA will affect JetBlue's bottom line this summer.
SUMMER OPERATIONS
Anticipating another season marred by cancellations and delays, the FAA recently took the unusual step of allowing carriers to temporarily vacate some allocated take-off and landing slots at major Northeast hubs during upcoming summer months. The agency has acknowledged that it does not have enough ATC employees to handle the anticipated seasonal travel peak in New York and Washington, DC.
Airlines are permitted to leave up to 10% of assigned slots unused without the risk of losing them to competitors, the FAA says. American Airlines and United Airlines have also indicated that they will vacate some of their slots this summer.
The schedule reduction will mostly impact JetBlue's "shorter haul routes, smaller gauge flights and routes that generally we felt would have the least impact if they lost frequency", says David Clark, JetBlue's head of revenue and planning.
"We are very prepared for this summer," Clark adds. "Most airlines are. Unfortunately, the FAA is not, so these are the steps we have had to take."
Starting last summer, JetBlue has made "a number of investments to try and insulate the operation from air traffic control challenges", he says. That includes "more people and crew services" as well as shifting to a higher percentage of out-and-back flights "that allow you to cleanly cut those flights and contain it to a specific route".
"As we think about JetBlue's footprint in the Northeast, we are making operational decisions, planning decisions and investments to enable us to operate in this airspace, because this is something that is not going to change in the very near term," Clark says.
Indeed, Hayes adds that the ATC staffing issues in the Northeast "just adds to the importance of JetBlue expanding its national footprint. We want to do that not by pulling down New York, because New York is home, but by building a more national presence".
SPIRIT 'TURBOCHARGE'
Hayes points to JetBlue's pending acquisition of rival carrier Spirit Airlines as an opportunity to expand much more rapidly than it could otherwise. "As we said at the outset, our combination with Spirit will turbocharge our plan," he says.
He maintains that JetBlue is still on track to acquire Spirit by the first half of 2024 despite a federal lawsuit blocking the deal on antitrust grounds. The trial is slated to begin on October.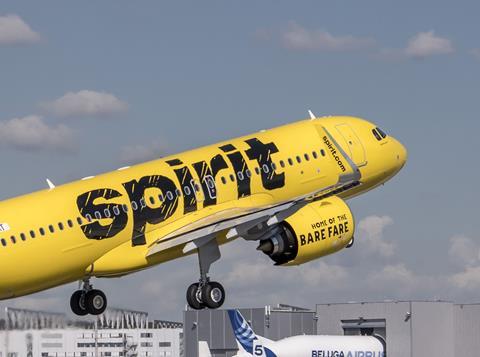 Among other strategic advantages, the deal would allow JetBlue to pursue an aggressive growth plan in South Florida that would see the carrier reach 250 daily flights at Fort Lauderdale-Hollywood International airport and 200 daily flights at Orlando International airport by 2027.
The New York based carrier recently disclosed that it will launch operations between the Northeast USA and Amsterdam "late this summer" with daily flights connecting New York's John F Kennedy International airport and Boston Logan International airport to Amsterdam's Schiphol airport using Airbus A321LR aircraft.
JetBlue's flights from New York to Amsterdam are set to launch 29 August, with Boston to Schiphol set to follow 20 September.
The carrier is currently operating five daily flights to London from New York and Boston combined. But the airline's fleet plan includes eventually operating 26 transatlantic-capable aircraft – both the A321LR and the yet-to-be-certificated A321XLR – and expanding on its "big three" destinations.
"Looking at what we have announced between London, Paris and Amsterdam, as those ramp up they will be about 10 flights per day, and take about the first 11 of those airplanes," Clark says. "So, there [are] certainly more transatlantic-capable aircraft coming."
Dave adds that further European destinations will be added to JetBlue's network in the future, but "for most of next year, you will see us ramping up these markets that we will have already announced".
The carrier expects its fleet modernisation programme to generate $40 million in savings this year and $75 million through 2024 as JetBlue's Embraer 190s are replaced with Airbus A220s.
"We have already achieved $30 million in savings with 12 E190s retired to date, including 10 currently parked in the desert and two that we have sold," says Ursula Hurley, JetBlue's chief financial officer.
On 24 April, JetBlue appointed Jill Eshbaugh as its new vice-president of airports experience to oversee day-to-day operations at more than 100 airports in the airline's network.
Eshbaugh joins JetBlue following a 25-year career with United Airlines.
This story has been edited to reflect the launch date of JetBlue's flights to Amsterdam.