JetBlue Airways posted a $24 million profit in the final quarter of the year as end-of-year travel spending increased to compensate for higher costs, especially for jet fuel.
By comparison, the New York-based carrier lost $129 million in the same three-month period in 2021.
Despite the fourth-quarter 2022 profit, the full year was not profitable for JetBlue, which posted a loss of $362 million, almost double its 2021 loss.
But executives remain optimistic that the post-Covid-19 environment will allow the airline to adequately rebuild its operations.
"We made tremendous progress in restoring the business coming out of the pandemic," chief executive Robin Hayes said during the company's quarterly earnings call on 26 January. "We remain focused on what we can control [and] continue see incredible demand."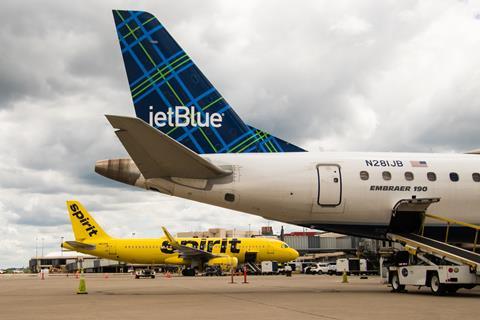 JetBlue's revenue rose to $2.4 billion during the final three months of the year, up from $1.8 billion in 2021's fourth quarter. For the full year, the company achieved sales of $9.2 billion, up from $6 billion a year earlier.
But expenses exploded, coming in at $9.5 billion, 55% more than during 2021. The primary culprit was jet fuel, on which the company spent 116% more during 2022 than one year earlier.
Executives say JetBlue has recently faced infrastructure issues that have led to delays and cancellations.
The airline has added slack to its system, seeking insulation from possible catastrophic events such as the meltdown experienced by Southwest Airlines during the busy end-of-year holiday travel season, or the grounding of all flights because of air traffic control infrastructure issues in early January.
JetBlue's aircraft utilisation rate and staff resources will not be at 2019 levels due to the "buffering and the padding we are putting in", says Joanna Geraghty, the airline's chief operations officer.
"We are not expecting things will ease," she adds. "JetBlue has a significant amount of exposure in the northeast corridor" – a region renowned for flight delays.
The "challenges we are experiencing in the airspace" are grave enough for the airline to have to plan for such outages, she adds. "There are modest improvements, but we don't see a step change by the FAA in the coming years."
SPIRIT ACQUISITION
As the company awaits a decision in a lawsuit brought by the US Department of Justice against its so-called "Northeast Alliance" with American Airlines, JetBlue is beginning the work of integrating discount carrier Spirit Airlines.
Last year, JetBlue won a five-month tug-of-war for the Miramar-based budget airline against Frontier Airlines. JetBlue aims to close the deal in 2024.
"These [transactions] are complicated, a lot have gone before us, and you are able to learn from what worked or didn't work," Hayes says. "We have an integrated management team in place, and I couldn't be more delighted with some of the work that's already underway to prepare for this."
"We have a pretty good understanding of the sequencing of decisions and what decisions need to be made when," Hayes adds. "There's still a lot of wood to chop, but the partnership between the JetBlue and Spirit teams has been excellent."
According to Cirium fleets data, JetBlue ended 2022 with 279 aircraft in its fleet. It plans to add 19 more in 2023.