US low-cost carrier JetBlue Airways reports a second-quarter profit of $138 million – compared with a $188 million loss last year – while the carrier struggles operationally and works to unwind its alliance with American Airlines.
"I've been at JetBlue now nearly 15 years, and this is the most exceptionally difficult summer I can remember," chief executive Robin Hayes said during the company's 1 August earnings call.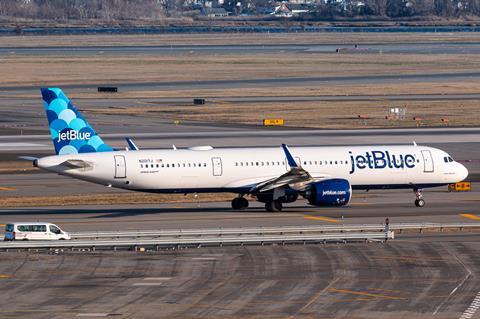 During the three months ending on 30 June, JetBlue saw the court-ordered dissolution of its Northeast Alliance (NEA) set in motion, felt competitive pressure from international travel demand and grappled with extreme weather disruptions and air traffic control worker shortages in the Northeast USA.
Despite those challenges, the company posted its highest quarterly profit since 2019.
JetBlue generated revenue of $2.61 billion during the third quarter – a company quarterly record, the carrier says – up 6.7% from $2.45 billion during the same period last year.
The New York-based carrier flew 11.2 million passengers during the second quarter, up 7.8% from the second quarter of 2022.
However, JetBlue has reduced earnings expectations for the rest of 2023 due to operational "headwinds". Now, the low-cost carrier anticipates third-quarter revenue to be down 4-8% year-on-year, and for full-year revenue to increase 6-9% over 2022 – down from previously estimated year-on-year growth in the "high single digits to low double digits".
JetBlue still anticipates posting a profit for the full year of 2023.
AIRLINE ALLIANCE UNRAVELS
As JetBlue winds down the NEA, it has adjusted its schedule in Boston and will work toward operating less than half of its current round-trip flights from New York's LaGuardia International airport next summer.
"New York will remain our largest focus city with well over 200 departures per day," Hayes says.
Breaking up the NEA will result in a "near-term drag on margins as cost benefits will lag the immediate loss of code-share revenues", says Joanna Geraghty, JetBlue's chief operating officer. "As we gradually redeploy our NEA-related capacity and optimise our schedule for this new normal, we expect to see a corresponding improvement in cost."
Now, the carrier focuses on defending its proposed $3.8 billion acquisition of Spirit Airlines against a US Department of Justice lawsuit brought on anti-trust grounds. The case is set for a Boston court trial in October.
"We made the difficult decision not to appeal the unfavourable NEA court ruling," Hayes says. (JetBlue's partner American Airlines is appealing the decision.) "This allows us to turn our focus to our combination with Spirit, which we believe is the best and most effective way to increase competition in the industry."
"Combining with Spirit will not only turbo-charge our or growth plan – creating a truly national low-fare challenger to bring more competition to the industry – but also add geographic diversity to our network," he adds.
Pratt & Whitney's recent recall of about 1,200 PW1000G engines will affect some of JetBlue's Airbus A321neos, according to Geraghty.
Two of its A321neos have been grounded in recent months due to "various engine issues", she says. And the company has been notified by P&W that "a handful" of its engines will have to be come off wing by September for inspection and partial disassembly.
"We expect the number of aircraft that we have on the ground at the end of the year to approximately double from what we have today," she says.
Geraghty adds that JetBlue is assessing the "longer-term impact" of GTF engine-durability issues on its fleet of A220s.
JetBlue has realised over half of $75 million in expected savings from its fleet modernisation programme to replace its Embraer E190s with Airbus A220s. To date, it has retired 12 E190s – five of which have been sold. The others are parked in storage.