JetBlue Airways is pushing back against a report saying that court papers reveal its plan to raise fares up to 40% on Spirit Airlines' jets after acquiring the carrier for $3.8 billion.
"Unfortunately, following a filing error by the legal team for a group of consumers that has filed a baseless lawsuit, we are in a position where we need to correct the record," a spokesperson for the New York-based airline said on 25 August.
JetBlue takes issue with a widely-cited 24 August report from legal news service Law360. That report said plaintiffs challenging JetBlue's acquisition of Spirit failed to properly redact sections of a recently filed court document, which were reportedly viewable if copy-pasted into another document. Law360 says the sections reveal plans by JetBlue to increase ticket prices 24-40% on Spirit's jets after completing the acquisition.
But JetBlue, which has insisted its acquisition of Spirit will increase competition, says the report does not accurately portray its plans.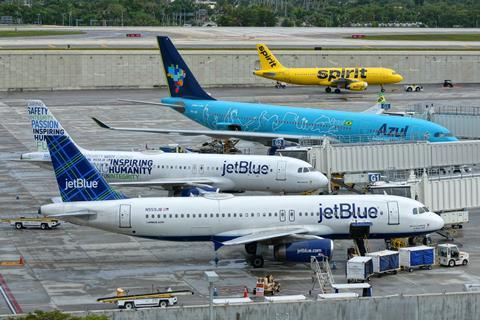 The court documents in question "did not include JetBlue internal plans, but rather the plaintiff's attorney's interpretation of court evidence", says a spokesperson for the airline.
Details are murky partly because the information in the relevant court paper has since been totally redacted. Still unclear is whether the plaintiffs' attorney used internal JetBlue information to come up with the alleged fare-hike estimates.
"This information comes from the plaintiffs, who are pointing, in an opposition brief, to what they say are JetBlue estimates," says Bryan Koenig, the Law360 reporter who authored the article.
JetBlue argues that facts have been misrepresented by Alioto Legal, the San Francisco-based law firm representing air travellers and travel agents in a private lawsuit seeking to block JetBlue from acquiring Spirit. The plaintiffs say the deal will violate antitrust laws, according to documents filed with US District Court for the District of Massachusetts.
The US Department of Justice (DOJ) is also seeking to block JetBlue acquisition of Spirit, through a separate case in the same court.
"The claims reported by several media outlets did not reflect facts set out in JetBlue documents," says the JetBlue spokesperson.

"It is important to understand that the redacted text was content written and produced by Alioto in their own court filing, not redactions to JetBlue internal documents," the spokesperson continues. "These redactions were in text where Alioto had outlined, in their own words, their argument to the court, and essentially represents the plaintiff's spin on confidential evidence they have reviewed."
Attorney Joseph Alioto declines to comment about the redacted material but points to public comments made by Spirit's chief executive, Ted Christie, before Spirit accepted JetBlue's acquisition offer.
He cites a May 2022 cable TV news interview with Christie in which the airline executive said "half the expected synergies" of JetBlue acquiring Spirit "would come from reduced capacity and increased fares to consumers".
"This is not plaintiffs' spin," Alioto says. "It is an admission of Spirit's CEO. Claiming otherwise is JetBlue's spin on facts Spirit has already conceded."
JetBlue has previously said it plans to remove seats from Spirit's fleet of Airbus jets once the deal is finalised, configuring those aircrafts' cabins like its own.
But the company maintains that its proposed tie-up with Spirit would boost competition with the "big four" US carriers – American Airlines, Delta Air Lines, Southwest Airlines and United Airlines – while increasing the number of low-cost flights available to budget-conscious travellers.
"We are confident that our merger with Spirit will give a much-needed boost to airline competition in the US and result in more low fares and higher-quality service for customers," JetBlue says. "We look forward to laying out all the evidence to support our case this October."