JetBlue Airways reported sharply declining third-quarter financial results but remains optimistic that the coming weeks will bring recovery as customers begin planning travel for the end-of-year holiday season.
The New York-based low-cost carrier lost $393 million in the quarter that ended in September, with revenue down 76% year-on-year, to $492 million, JetBlue reports.
For the final quarter of the year, however, which includes the all-important Thanksgiving holiday weekend at the end of November, the airline sees pent-up demand among leisure customers looking to visit friends and family, as well as university students returning home, as a key driver for increased business.
The Thanksgiving weekend is usually the most heavily travelled holiday period of the year in the US.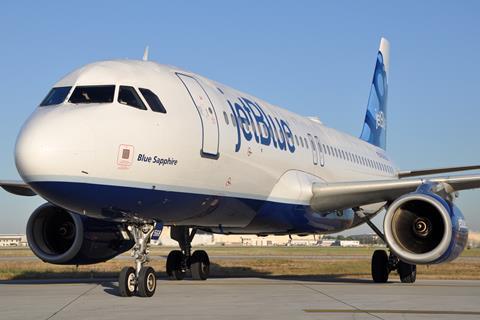 "Our planning assumption for the fourth quarter is a revenue decline of approximately 65% year-over-year," JetBlue chief operating officer Joanna Geraghty says. "Although there [is] still quite a lot of uncertainty about the evolution of the coronavirus, we are starting to see the booking curve extend slightly into the upcoming Thanksgiving and December holiday travel period, and we are encouraged by customers responding positively to our promotional activity including an early holiday sale in late September."
But even with these positive signals, the crisis is far from over, executives say. A spike in coronavirus cases earlier this year in traditional vacation destinations such as Florida and Arizona scared off potential summer travellers, but three months on, customers do not seem to be as fearful of air travel.
"What we did see in the summer was that as case counts went up in the Sun Belt we saw an impact on bookings," chief executive Robin Hayes says. "As case counts come up around the country [now], we haven't seen that again."
"This is a non-linear recovery," he adds. "We expect it to ebb and wane."
For the fourth quarter, the airline is planning 45% less capacity from the same period a year ago, which should still be plenty to meet demand.
"Leisure [visiting family and relatives] travel is what we are built to do. As we navigate this crisis and see what the demand is, we are uniquely positioned, rather than carriers who are reliant on business travel," Geraghty says.
The biggest problem facing the carrier is the patchwork of travel restrictions across the country that continue to create uncertainty for passengers travelling between regions.
The New York metropolitan area, including neighbouring states Connecticut and New Jersey, maintains 14-day quarantine requirement for passengers arriving from 31 other US states. That means customers from more than two-thirds of the country theoretically must self-isolate upon arrival. In the meantime, there is the possibility in some areas to skip the quarantine with proof of a negative Covid-19 test.
"The quarantine is a barrier for people to fly," Hayes says. "When states create test-out exceptions for quarantine, that is a positive catalyst."
Geraghty says that while a widely available vaccine will certainly help the industry recover, the airline is spending a great deal of time looking into rapid testing solutions either prior to departure or upon arrival.
"We definitely think [a vaccine] is critical to longer-term recovery, but we are going to need to have in the short- and medium-term a rapid-testing strategy," she says. "We are working with governments to put into place a consistent testing framework."
SAVING CASH
The company reduced average daily cash burn to about $6.1 million during the third quarter, and expects that number to fall further, to $4-6 million during the fourth quarter. It ended the third quarter with $3.1 billion in liquidity.
JetBlue also says it reached an agreement with European airframer Airbus to defer deliveries of some aircraft, helping JetBlue reduce capital expenditures for 2020 and 2021 by $2 billion.
"We feel now that we have got the balance right between navigating the crisis and bringing high-margin, high-return aircraft to supplement the JetBlue fleet," says chief financial officer Steve Priest.
The airline now has 265 aircraft in its fleet and intends to receive two more Airbus A321neos as well as its first A220 during the final weeks of the year. JetBlue holds 70 A220-300 orders, according to Cirium fleets data, and plans to replace all of its Embraer E190 aircraft with the new Airbus jet.
JetBlue also announced on 27 October that it will begin four-times weekly service between New York's John F Kennedy International airport and Georgetown, Guyana on 11 December – three months later than initially planned. The carrier will deploy A321neos on that route.