JetBlue Airways continues fiercely pushing back against claims that it intends to hike prices up to 40% on Spirit Airlines' aircraft after its proposed acquisition of the rival carrier is finalised.
In a 28 August court filing, JetBlue requests "serious sanctions" against plaintiffs pursuing a civil lawsuit to block the Spirit deal, or an "order to show cause as to why the court should not… find lead plaintiffs' counsel in contempt of court for wilful violations of the court's orders".
JetBlue also wants a "sworn statement on all future pleadings, detailing the steps they have taken to protect confidential information", the filing shows.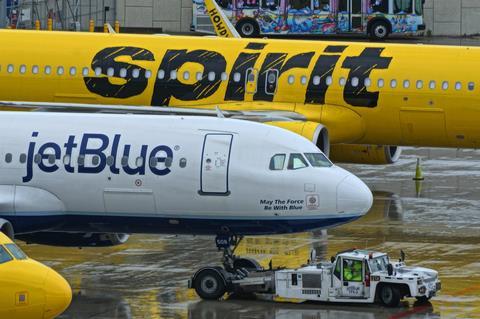 Last week, legal news service Law360 reported that attorneys representing a group of travellers and travel agents in a private lawsuit to block the JetBlue-Spirit deal failed to properly redact sections of sensitive court documents. The redacted sections could be viewed by copy-pasting the text into another document, revealing plaintiffs' claims that JetBlue intends to hike fares 24%-40% and reduce capacity on Spirit's aircraft.
Pushing back against the report, low-cost carrier JetBlue says the redacted sections "did not include internal JetBlue plans" but rather reflected the plaintiffs' interpretation of confidential information. JetBlue argues that facts have been misrepresented by Alioto Legal, the San Francisco-based law firm representing the plaintiffs.
In response, JetBlue asks the US District Court for the District of Massachusetts to come down hard on its opponents for the formatting error and its actions following the information leak.
"Plaintiffs engaged in a series of acts that violated their duties to the court and JetBlue," the New York-based carrier argues. "They publicly filed a brief incorrectly purporting to characterise information unrelated to plaintiffs' standing and marked as confidential under the protective order, [and] they failed to properly redact their brief so as to leave the impression that their mis-characterisations were made by the JetBlue documents."
The carrier adds that the attorneys also "waited hours to even respond" to JetBlue's request to fix the redaction errors and "gave a press interview about that filing".
"Plaintiffs exploited their violation of the protective order last week by speaking with the press in an apparent effort to publicly pressure JetBlue, knowing that JetBlue cannot respond in kind," the carrier says.
Neither JetBlue nor attorney Joseph Alioto commented on the airline's motion for sanctions.
Alito declined last week to comment about the redacted material but maintained the position that JetBlue plans to raise fares, citing comments made in 2022 by Spirit's chief executive Ted Christie that "half the expected synergies" of JetBlue acquiring Spirit "would come from reduced capacity and increased fares to consumers".
"This is not plaintiffs' spin," Alioto said. "It is an admission of Spirit's CEO. Claiming otherwise is JetBlue's spin on facts Spirit has already conceded."
The US Department of Justice is also seeking to block JetBlue acquisition of Spirit through a separate civil case in the same court, which is set for a trial starting in October.
JetBlue is also working to complete the court-ordered dissolution of its Northeast Alliance with American Airlines following a federal antitrust trial last year.