Frontier Airlines' chief executive insists a JetBlue Airways-Spirit Airlines tie up will give his company a cost advantage better than any a US carrier has enjoyed for decades.
"We're in a situation where… 95% of the capacity in the United States is going to have [a cost that is] a third or higher than ours," Frontier CEO Barry Biffle told FlightGlobal on 15 September.
"I don't think its been that good since Southwest in the late '80s," he adds.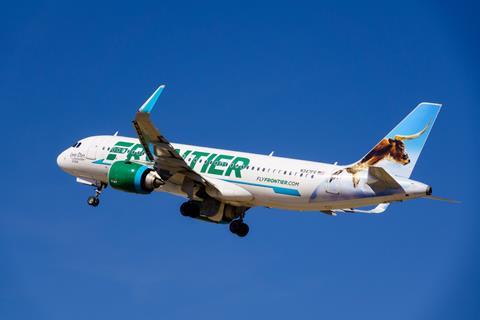 Biffle made his comments during an aerospace conference in Washington DC, one month after Florida-based ultra-low-cost Spirit walked away from an acquisition proposal from Denver-based Frontier.
Instead, Spirit agreed to pursue a competing acquisition offer from New York's JetBlue, an airline with significantly higher operating expenses.
JetBlue reported a cost per available seat mile (CASM) excluding fuel expenses of about 10 cents in the second quarter – nearly 40% more than Spirit's 7.2 cents.
Frontier had intended to use Spirit to create a mega ultra-low-cost carrier. But JetBlue sees in Spirit an opportunity to expand its existing business model.
"That's going to hurt consumers," Biffle says. "It's bad for consumers if they have to pay higher prices."
But Biffle thinks Frontier will end up on top even with JetBlue winning out. That is because, he says, JetBlue's plan will eliminate Spirit as a ULCC competitor, leaving Frontier with a huge share of ultra-discount segment.
The US airline market essentially has three ULCCs – Allegiant Air, Frontier and Spirit, which collectively account for about 10% of domestic available seat miles, according to Diio data. Of that pie, Allegiant holds 15%, Frontier has 36% and Spirit has half.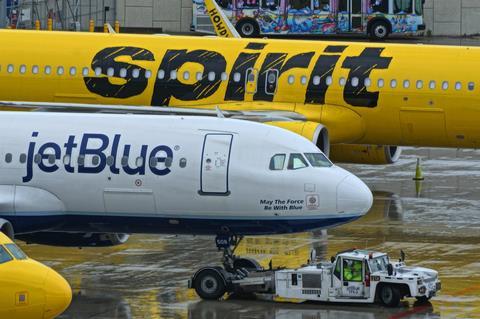 With Spirit out, however, Allegiant and Frontier would own the ULCC segment themselves. Frontier would have 70% of US domestic ULCC capacity, with Allegiant holding the balance, data shows.
In that scenario, Biffle is correct: 95% of US domestic airline capacity would be controlled by airlines with costs significantly higher than Frontier's.
JetBlue's acquisition of Spirit remains far from certain: the carriers must secure regulatory approval from an administration that has taken a strong stance against business deals it views as anti-competitive.
The Department of Justice is already battling in federal court to force JetBlue and American Airlines to abandon their partnership in New York and Boston.
JetBlue anticipates it will clear those hurdles and close its Spirit acquisition by the first half of 2024. JetBlue is to pay $3.6-3.7 billion in cash, depending on the close date.
Frontier had offered to buy Spirit with a mix of cash and stock valued at about $2.8 billion. But, Frontier insisted its offer stood a greater chance of securing regulatory approval.