The US Department of Justice's antitrust trial to block low-cost carrier JetBlue Airways' acquisition of Spirit Airlines could be delayed if the federal government shuts down for more than two weeks.
That is according to a 22 September analysis by TD Cowen aviation analyst and managing director Helane Becker, who said the DOJ recently indicated that "the courts have about two weeks of runway" in the event of a government shutdown.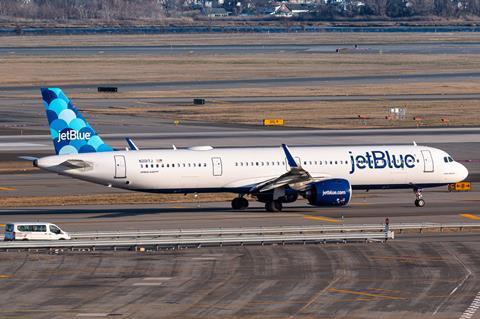 Scheduled to begin in Boston next month, the jury-waived court trial is expected to take no longer than 20 days. During a video hearing earlier this year, US District Judge William Young said he expects to rule on the potential airline tie-up by year's end.
But an impasse between the Democratic-controlled Senate and Republican-controlled House of Representatives theatens to cause a potentially lengthy shutdown if the legislature fails to approve a spending package.
"We believe a shutdown that lasted more than two weeks would delay the October 16 start of the DOJ lawsuit against JetBlue in their pending merger [with] Spirit Airlines," Becker says.
Additionally, the DOJ appears likely to continue pursuing its case against the JetBlue-Spirit deal despite JetBlue's attempts to appease the government with divestiture agreements to hand Spirit's assets to competitors, she adds. In recent months, JetBlue has pledged some of Spirit's gates and take-off and landing slots in fiercely competitive East Coast markets to ultra-low-cost carriers Allegiant Air and Frontier Airlines.
"In some ways, we think JetBlue is bidding against itself as it tries to figure out what it can sacrifice so the DOJ approves the merger," Becker says. "In our view, every sacrifice devalues the merger, but Spirit's aircraft orderbook and staff (including pilots, many of whom are leaving) are the ultimate prizes."
The DOJ sued to block JetBlue's Spirit deal in March, arguing that it would eliminate a leading discount carrier from the market and limit consumer options for affordable air travel. JetBlue maintains that the deal will boost competition with major US carriers and expects to close the deal by the end of the first half of 2024.
Meanwhile, the looming government shutdown also stands to stall efforts to hire and train thousands of new air traffic controllers. US Secretary of Transportation Pete Buttigieg said during a hearing on 20 September that a shutdown would halt training of 2,600 air traffic controllers amid the FAA's staffing shortage, which some airlines say is causing major operational disruptions and raises safety concerns.