JetBlue Airways turned a $130 million profit in the third quarter of 2021, buoyed by $186 million in financial aid related to US government coronavirus relief packages.
"We are marching towards a full recovery and a return to sustained profitability," JetBlue chief executive Robin Hayes said on 26 October.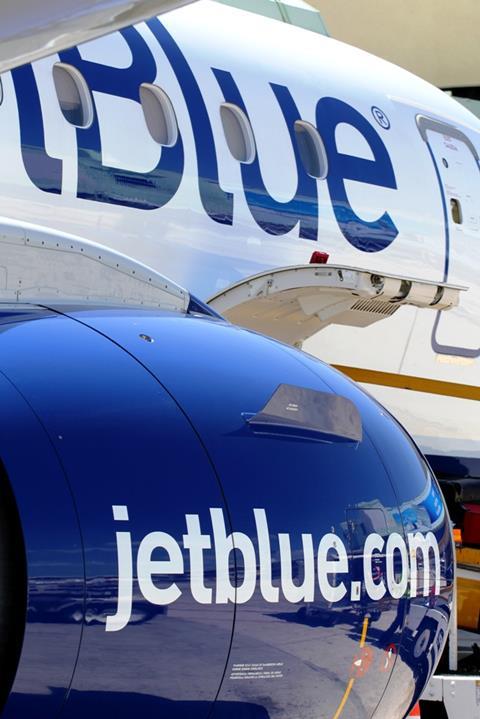 The results, which were a marked improvement on the $393 million loss recorded in the third quarter of 2020, reflect a "recent material spike in fuel prices", a post-summer dip in leisure travel demand, and slow recovery of demand for business travel, the airline says.
"September took the brunt of the bookings softness associated with rising case counts tied to the Delta variant," says JetBlue chief operating officer Joanna Geraghty. "Trends have stabilised and are improving. We expect robust revenue acceleration throughout the [fourth] quarter, as the holidays approach and demand continues to meaningfully improve."
JetBlue reports $2 billion in third-quarter operating revenue, a roughly four-fold increase on the same period of 2020.
Third-quarter revenue was slightly more than the company had anticipated, due partly to an "uptick in demand as we closed out the quarter", the airline says.
Operating expenses in the period came in at $1.8 billion, up 77% year on year. Expenses would have been $186 million more if not for an influx of US federal government funds earmarked for payroll and other employee programmes.
JetBlue expects fourth-quarter revenue will be 8-13% lower than in the fourth quarter of 2019, before the pandemic began, while capacity will be 4-7% lower.
The fourth-quarter results will reflect "slower business travel recovery," but year-end holiday travel is "performing meaningfully better", Geraghty says.
JetBlue paid an average of $2.08 per gallon of fuel in the third quarter, up 69% year on year.