JetBlue Airways recently called on the US Department of Transportation (DOT) to retaliate against Dutch carrier KLM if JetBlue is expelled from Amsterdam's Schiphol International airport due to capacity cuts.
In a 22 October filing, the New York-based discount carrier urged the DOT to "enact countermeasures if this matter is not fully resolved" by 2 November.
Last month, JetBlue argued that it is "uniquely situated among US carriers" because it faces expulsion from Schiphol at the end of the winter 2024 travel season unless the DOT takes action against the Netherlands.
"Given that JetBlue faces imminent expulsion from slot-controlled [Schiphol]… the only proportional schedule reduction would be a suspension of all KLM services at John F Kennedy International airport," it argues.
"Alternatively, the department should actively consider imposing a limitation on the antitrust immunity granted to KLM," JetBlue says.
KLM also recently denounced the capacity reductions at Schiphol. "This is not about the number of flight movements but about reducing noise," it said on 1 September. "The noise targets can be achieved in a better way that would really benefit local residents, the climate, airlines and the Dutch economy."
The carrier has proposed alternative options for reducing noise pollution over Amsterdam, including operating newer aircraft.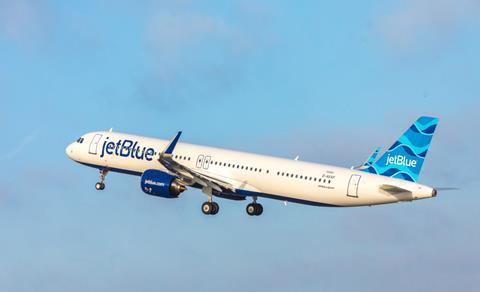 JetBlue launched flights from John F Kennedy International to Amsterdam in August, and Boston-to-Amsterdam flights began in September. Now it is fighting to maintain those hard-won slots at Schiphol.
The carrier alleges the government of the Netherlands has violated European Union regulations and the US-EU Open Skies Agreement of 2007 by "unlawfully mandating capacity reductions" in its attempt to reduce commercial airline activity and noise pollution at the airport.
The government is proposing a cap of 452,500 flights starting in 2024 – down from 500,000 – and has reduced the number of night flights at the airport from 32,000 to 28,700 annually, which the government says could reduce noise pollution by about 15%.
JetBlue has been using its Airbus A321LR aircraft to operate transatlantic flights from Boston and New York to Amsterdam, London and Paris.
On 25 October, the carrier said that it plans to add seasonal flights from the Northeast USA to Dublin and Edinburgh during the 2024 summer travel season in the northern hemisphere.
"Our summer seasonal service to Dublin and Edinburgh will bring a new level of service and affordable fares to these markets that have been dominated by high-fare legacy carriers for decades," says Robin Hayes, JetBlue's chief executive.
JetBlue is engaged on multiple fronts. Starting next week, it is defending its proposed $3.8 billion acquisition of ultra-low-cost carrier Spirit Airlines in a federal antitrust trial being held in Boston.