Flight disruptions related to summertime thunderstorms and air traffic control worker shortages at major airports in the Northeast USA have been "much, much worse" than anticipated by JetBlue Airways.
Combined with slowing domestic demand, the issues have caused JetBlue to reduce earnings expectations for the rest of 2023. Now, the low-cost carrier anticipates third-quarter revenue to be down 4-8% year-on-year, and for full-year revenue to increase 6-9% over 2022 – down from previously estimated year-on-year growth in the "high single digits to low double digits".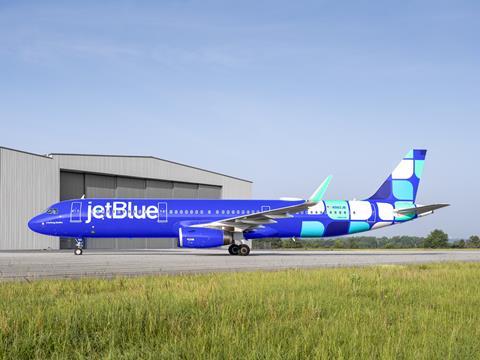 "Looking ahead, we are updating our full-year earnings outlook to reflect near-term headwinds related to the termination of the [Northeast Alliance], a challenging operating environment in the Northeast and a greater than expected shift of pent-up Covid demand to long-haul international markets, which is pressuring demand for domestic travel during the peak summer travel period," Joanna Geraghty, JetBlue's chief operating officer, said on 1 August.
During the New York-based airline's quarterly earnings call, chief executive Robin Hayes described JetBlue's struggles in the Northeast region since it agreed to vacate 10% of its take-off and landing slots at Northeast hubs in response to the Federal Aviation Administration's admission that it does not have enough air traffic controllers to cover the seasonal peak of air travel.
"We are seeing ATC programmes stay in place longer than we've ever seen before for similar weather events, which is driving hundreds of delayed flights a day for JetBlue alone," Hayes says. "When we look at FAA data on the worst industry cancellation events for thunderstorms at [John F Kennedy International airport], the worst four events since 2014 happened in late June and July of this year."
The operational difficulties come despite the airline's previous assurances that it was prepared for peak summer travel, and the FAA's efforts to avoid the congestion, delays and cancellations that plagued US airports during the chaotic 2022 summer travel season.
"As we stepped into June, despite meaningful structural investments – including substantially more pilot and flight reserves, more spare aircraft and improved [software] tools, in addition to our 10% schedule reduction in New York area airports – it was still not enough to overcome the combined weather and more restrictive ATC programme," Geraghty says.
"We know how to manage extreme weather conditions and are performing as well as others in the Northeast during these events," she adds. "But the sheer number of these events and their duration is among the most challenging that we've ever seen."
During one stretch starting in June and extending into July, JetBlue experienced 30 consecutive days of "irregular operations". The carrier's completion factor in July took a four-point hit due to the disruptions.
JetBlue expects weather and ATC-related disruptions to continue through August and further into the third quarter, as its footprint in the Northeast leaves it "disproportionately exposed to these issues", Geraghty says.
"These real-time disruptions generate cost pressures beyond our initial planned investments and also impact revenue due to higher cancellations, which drive refunds and reduced sellable capacity," Hayes says.
JetBlue believes ATC-related issues will not effect its operations in the fourth quarter, however, and the carrier still anticipates making a profit on the full year of 2023.
Looking ahead to summer 2024, JetBlue's exposure to the Northeast will be reduced due to the dissolution of its Northeast Alliance with American Airlines, but Hayes says the carrier also needs "substantial improvements in ATC performance and additional industry slot relief to ensure we can deliver the operational experience our customers deserve".
The airline says it is already working with the FAA to help mitigate disruptions to air travel next summer in the Northeast USA.
Last month, the US House of Representatives passed an FAA funding bill that includes provisions to address resource problems affecting the FAA's air traffic control division. It would require the agency to begin expanding ATC "facilities, instruction, equipment and training resources", and to evaluate opening a second ATC training academy, among other measures.
The bill still needs to pass in the Senate before being signed into law.