Vietnam low-cost carrier Jetstar Pacific will revert to its former name, Pacific Airlines, as greater synergies with 70% owner Vietnam Airlines are sought.
The proposed rebranding follows an agreement between Vietnam Airlines and Qantas Group, which owns a minority 30% stake in Jetstar Pacific. In addition, Jetstar Pacific will switch its reservations to from Navitaire to Sabre, to better coordinate bookings with Vietnam Airlines.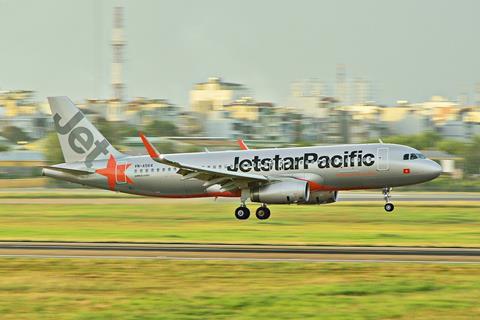 Pacific Airlines chairman Trinh Hong Quang says the move will unlock economies of scale, and make the low-cost unit more competitive.
"With a highly competitive domestic market in Vietnam and the disruption caused by the coronavirus, the time is right to take advantage of the strength and scale of Vietnam Airlines in its home market," says Jetstar Group chief executive Gareth Evans.
"Streamlining customer and booking functions will enable further cost savings and position the airline for a stronger future as international travel restrictions ease."
Vietnam Airlines adds that Jetstar Pacific's ownership could see changes. Stating that itself and Qantas "continue to review the low-cost carrier's structure and future shareholding arrangements."
The move adds credence to media reports in April that suggested Qantas was open to the idea of exiting its shareholding in Jetstar Pacific, and that sales talks had taken place.
In the past, executives at both Vietnam Airlines and Jetstar Pacific have tended to discuss the low-cost unit's tight cooperation Vietnam Airlines in the country's tough domestic market, as opposed to collaboration with Qantas and other Jetstar group carriers.
In a 2019 Airline Business interview, Vietnam Airlines chief executive Duong Tri Thanh said that Jetstar Pacific was a key part of the carrier's strategy in dealing with rivals such as VietJet Air in Vietnam's competitive domestic market.
The rebranding of Jetstar Pacific to Pacific Airlines pends regulatory approval.
Qantas's involvement in Jetstar Pacific dates from 2007, when it received approval from the Vietnamese government to buy a 30% stake in the carrier, then directly owned by the government. In 2012, Vietnam Airlines took over the government's 70% stake.
Cirium fleets data indicates that Jetstar Pacific operates 17 Airbus A320s, of which eight are in service and seven in storage.