Korean Air and Asiana Airlines are launching an inter-airline through check-in (IATCI) service from today.
"Preparing for the integration, Korean Air and Asiana Airlines will continue to develop services to enhance customer benefits," Korean Air states in a press release today.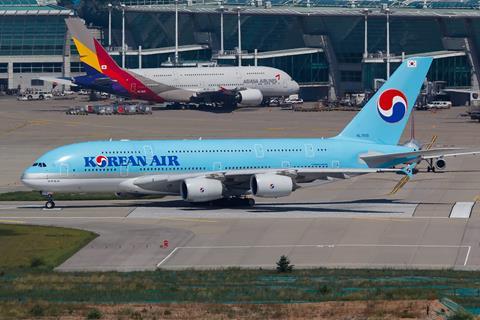 This service allows passengers to receive a boarding pass and seat assignment for their connecting flight when checking in with the first airline, as well as transfer their check-in baggage to the final destination.
In 2019, there were approximately 12,000 transit passengers between both full-service carriers at Seoul Incheon, according to Korean Air. It adds that it currently has IATCI agreements with 49 major global airlines, including joint venture partner Delta Air Lines.
Korean Air recently signed a similar agreement with affiliated low-cost carrier Jin Air for international connections through Seoul Incheon. Jin Air says in a 2 December statement that it is the first low-cost carrier in South Korea to ink an IATCI partnership.
Korean Air and Jin Air are affiliates through Hanjin KAL, which owns a 30% share in Korean Air and over 55% in Jin Air, according to Cirium data.
Separately, Korean Air announced on 16 November a W1.8 trillion ($1.6 billion) acquisition of Asiana Airlines. This includes Asiana's low-cost affiliates, the wholly owned Air Seoul and 44%-owned Air Busan.