Korean Air believes the strong performance in its cargo business will slow the second half of 2021, with passenger flights resuming and bellyhold capacity re-entering the market.
"Our cargo sector expects to perform strongly in the first half of the year due to a continued shortage of passenger flight belly capacity, recovery in trade and shipping logistics problems," says Korean Air president Woo Keehong in a company briefing.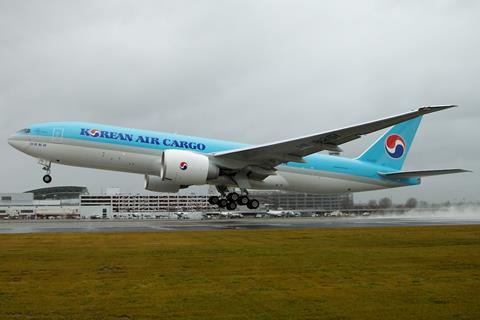 "However, the cargo performance will be slowed down in the second half as the capacity issues are expected to be alleviated with other airlines expanding their capacities and passenger flights starting to resume."
In a year during which most airlines suffered massive operating losses, Korean was a rarity in that it was able to report an operating profit of W238 billion ($213 million) on the back of its strong cargo business. The strong cargo result came about despite revenues diving 40% year on year to W7.4 trillion.
Woo adds that the airline is hopeful that the industry can "start to recover substantially from 2022" from the coronavirus pandemic, but stresses that this is "very difficult to predict."
Woo expects domestic traffic to recover in countries with effective rollouts of Covid-19 vaccines, but warns that international markets may take "considerable time" to reopen given the plethora of travel restrictions in place.
He adds that the airline's international operations have fallen 77% from 2019 levels. The airline is focusing its efforts on routes that allow the entry of Korean citizens and where cargo demand exists.
As for costs, Woo says that 55% of the company's 8,000-9,000 employees take rotational leave every month, helping to reduce operating losses.
"We will continue our self-rescue efforts such as slimming the organization, improving productivity, deferring aircraft deliveries, delaying investments, and reducing costs," he says.
Woo adds that the Korean's fund raising efforts during the year means that there are no concerns about liquidity. In April, the airline will conduct its first corporate bond issue since the start of the Covid-19 pandemic, and it expects a good response from the market.