LATAM Airlines Group posted record quarterly revenue during the three-month period ending in September, turning a $232 million profit – the airline's fourth consecutive quarter in the black – as sales from passenger travel more than offset a decline in cargo revenue.
The Santiago-based carrier said on 31 October that its revenue for the third quarter reached $3.1 billion for the first time in the airline's history, up 18.1% from the same period last year. Of that, passenger revenue accounted for $2.7 billion, rising 25.6% over the same three months in 2022. Cargo revenue fell 20% year on year.
LATAM's capacity (measured in available seat kilometres) jumped 15.2% year on year, with international travel leading, up 29.2%.
The company's executives express satisfaction with the airline's achievements since emerging from Chapter 11 bankruptcy restructuring one year ago.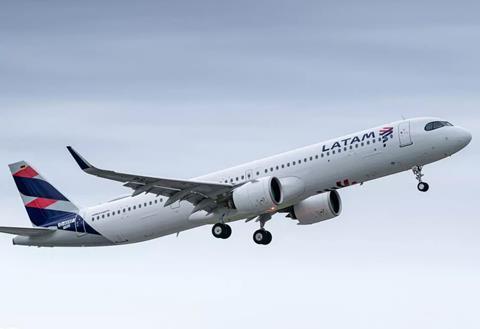 "On November 3, 2023, it will be one year since LATAM and certain of its affiliates successfully emerged from Chapter 11 proceedings," chief financial officer Ramiro Alfonsin says. "In this regard, we have seen the exceptional resilience of the group and all of its employees. The results of these twelve months are a reflection of LATAM group's value proposition, unique cost structure, healthy financial situation and leadership, both regionally and globally."
LATAM and two of its regional airline peers – Aeromexico and Avianca – sought bankruptcy protection in mid-2020 as the Covid-19 global pandemic brought the industry to near-standstill. Unlike North American and European carriers, Latin American airlines did not receive sector-specific government financial aid to help weather the crisis.
"In that context, LATAM reported strong third-quarter results and reaffirms its updated full-year guidance, likely reaching the better end of the ranges," Alfonsin adds. The company's financial performance "has been progressively improving thanks to systematic work toward a long-term vision".
LATAM's load factor was 85.3% in the quarter, up 2.4 percentage points year on year, while it filled 87% of seats on international flights, the company says.
"International leads in strength vis-a-vis other segments," adds chief executive Roberto Alvo. Within that segment, international long-haul travel is "slightly better" than international regional travel.
"The load factors are in the highest part of the 80's and we expect to see these trends continue," he says. "I am proud of where we are and we look forward to building on this."
The carrier ended the third quarter with 321 aircraft in its fleet, including 245 Airbus narrowbodies, 58 Boeing widebodies and 18 Boeing freighters.
The group received four 787s, three A320neos, three Airbus A320s and its first Airbus A321neo during the quarter. The company says it used 49% sustainable aviation fuel (SAF) for the A321neo delivery flight from Hamburg, Germany. LATAM has committed to using 5% SAF for all of its flights by 2030.
The group recently ordered 13 additional A321neos, bringing its total orders to 76 of the type. Including other variants, LATAM holds orders for 111 A320-family jets. It expects to end the year with 334 aircraft, rising to 335 in 2024 and 341 in 2025.
Alfonsin says the company's joint venture, started one year ago, with US carrier Delta Air Lines is developing as planned. "We have grown connectivity in key hubs, launched several new routes and expect more from this partnership," he says.
GTF ENGINES
Executives warn LATAM's operation may suffer from Pratt & Whitney's recall, disclosed earlier this year, of thousands of PW1100G geared turbofan (GTF) engines, which power A320neo-family jets. The turbofans' disks must be inspected or replaced due to an improper manufacturing process involving powdered metal.
The issue will force airlines globally to ground hundreds of jets at any given time, significantly impacting the aviation industry.
LATAM has 20 A321neos with PW1100Gs, says Alfonsin.
"This is still an evolving situation, and discussions are still ongoing to assess the potential impact that we will have," he adds, saying LATAM may mitigate impacts by flying some first-generation A320-family jets longer than previously planned. "We think we will be able to mitigate and not disrupt the capacity plan that we have in 2024."
Chile's JetSmart and Mexico's Volaris and VivaAerobus also expect to ground Airbus jets due to the recall, those carriers have warned.