LATAM Airlines Group posted a profit for the final quarter of 2022, just months after it became the last of three Latin American airlines to emerge from voluntary restructuring precipitated by the Covid-19 pandemic.
Speaking on the company's first earnings call since it completed the process under the protection of the Chapter 11 bankruptcy process, LATAM chief executive Roberto Alvo said on 10 March that the company is now "one of the most efficient" globally in terms of its cost structure.
"We chose a restructuring path, they were three very complicated years, but we feel that the decision - in light of where the company stands today - it was the right decision," Alvo says. "The companies that did not restructure at the time still have to bear all the impact [of the pandemic] on their balance sheets."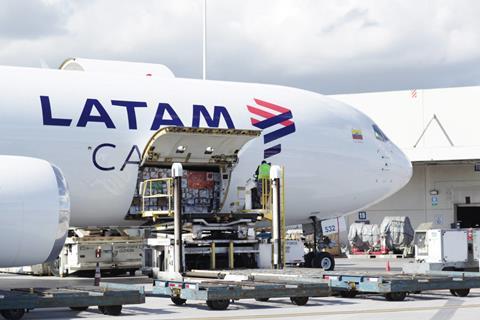 The Santiago-headquartered company swung to a $2.54 billion net profit in the final three months of 2022 after posting a loss of $2.66 billion in the same quarter of 2021. That includes one-off gains relating to its emergence of from restructuring. LATAM's operating profit for the fourth quarter before other income and adjustments was $140 million.
For the full year, LATAM earned $1.34 billion, after a $4.4 billion net loss in 2021. The group posted a full-year operating loss before other income and adjustments of $121 million.
The carrier's fourth-quarter revenue climbed to $2.74 billion from $2 billion in the same period in 2021. However, that is still lower than the $2.87 billion the company reported in the last three months of 2019. Total revenue for the full year was $9.52 billion, 86% higher than in 2021, but still 10% lower than in 2019.
"2022 was a milestone year for LATAM group, in which it successfully completed a major financial restructuring while continuing to advance in its strategic objectives and the recovery of its operations," the company says.
LATAM was the last of three Latin American airlines to complete the process, following Colombia's Avianca and Aeromexico. All three carriers voluntarily filed for protection under the US Chapter 11 bankruptcy scheme in mid-2020, as the rapidly spreading Covid-19 global pandemic caused chaos across the industry. Avianca emerged from Chapter 11 December 2021, and Aeromexico in March 2022.
In 2022, LATAM transported about 62 million passengers, 22 million more than in 2021, as it restored much of its network and operations.
"Our focus in the short term is to make sure we recover the capacity that we had until 2019, and we have a lot of growth in front of us," Alvo says. The company has significant domestic operations in five Latin American countries – Brazil, Chile, Colombia, Ecuador and Peru. Executives says its first priority is to stabilise its post-Covid business in those markets before considering expansion to others.
"I'm not discarding anything, but I would say that the focus today is in the countries that we are already," Alvo adds.
The company says that demand has remained robust in most segments and countries in the first part of the new year, with the exception of Peru. A political crisis and ensuing violence in that country remains a concern. "It's getting better as the country has more stability, but that has impacted in the first two months of the year," he says.
IMPACT OF VIVA AIR GROUNDING
LATAM is watching closely the developments around Colombian low-cost carrier Viva Air, and has deployed five more aircraft to that country after Viva suspended operations at the end of February.
"We see an opportunity of a stronger position in that market in particular, one of the most important in the region," Alvo says. "We see this as an opportunity to make our product more competitive for Colombian passengers and people who want to fly international in and out of Colombia."
Colombia's transportation superintendent has now taken control of Viva, which had cited regulatory hold-ups in its planned tie-up with Bogota-based Avianca for grouding flights, and is seeking to submit it to a business recovery process.
While Avianca has been wooing Viva for quite some time, it has been stymied by Colombian competition authorities, which declined a possible merger late last year. In the meantime, LATAM and Chilean ultra-low-cost carrier JetSmart have also expressed interest in acquiring Viva.
FLEET EXPANSION THIS YEAR
LATAM ended 2022 with a fleet of 310 and expects expand this to operate 323 aircraft by the end of this year.
"LATAM has fleet commitment agreements with Airbus and Boeing for new aircraft and additionally has signed several contracts with lessors to receive both narrow-body Airbus and wide-body Boeing aircraft in the coming years," the airline says. "These newer aircraft will allow LATAM to renew and expand its fleet and reflect LATAM's commitment to a modern fleet and its long-term sustainability strategy toward carbon neutrality by 2050."
The company is holding on to its plan to convert ten Boeing 767 passenger aircraft into cargo freighters, despite recent softness in the cargo market. Four of the ten have already been converted and the remaining six will be completed this and next year.
"Cargo continues to be an important pillar, already surpassing 2019 levels," says chief financial officer Ramiro Alfonsin. Cargo revenue in 2022 increased to $1.73 billion, up 62% against 2019 levels. The freight operation accounted for 18% of the company's overall revenue total in 2022, compared to 10% prior to the pandemic, Alfonsin adds.
FIRST STEPS FOR DELTA JOINT VENTURE
LATAM says that it has begun to work together with Delta Air Lines on implementing their long-awaited joint venture which was finally approved by all relevant authorities last September. The US Department of Transportation (DOT) granted the joint venture antitrust immunity at that time allowing the two carriers to"work closely to create the leading airline partnership between the United States/Canada and South America". The deal had been more than three years in the making.
"From that day on we declared the joint venture effective and started to work together," Alvo says. The two airlines are in "advanced stages of the set up of this" and he says they are "very optimistic about the prospect and I feel very good about the relationship."
The partnership encompasses flights to Brazil, Chile, Colombia, Paraguay, Peru and Uruguay – allowing passengers access to more than 300 destinations across the North and South American continents. It is designed to see the carriers operate flights under each other's identification between, within and beyond their home countries and includes flights operated by Delta Connection's US regional affiliates SkyWest Airlines, Republic Airways and Endeavor Air.
LATAM has launched two new routes to the USA so far, while Delta has up-gauged its flights from Atlanta to Lima and from Atlanta to Santiago.
"These are very encouraging first steps in this relationship," Alvo adds. "It will take a couple of years but the start is a very good one and one that has us at LATAM very excited."