LATAM Airlines Group posted a fourth-quarter loss but sees its business on "an improving trajectory" as it aims to exit bankruptcy court protection later this year.
The Santiago, Chile-based airline says on 9 March that it ended the final quarter of 2021 with a net loss of $2.7 billion, which was "heavily impacted by a valuation allowance of deferred tax assets" and reorganisation expenses.
The reorganisation has been ongoing since mid-2020 when the carrier voluntarily entered Chapter 11 bankruptcy protection after the coronavirus crisis decimated demand. LATAM is "targeting to emerge from Chapter 11 during the second half of 2022", it says.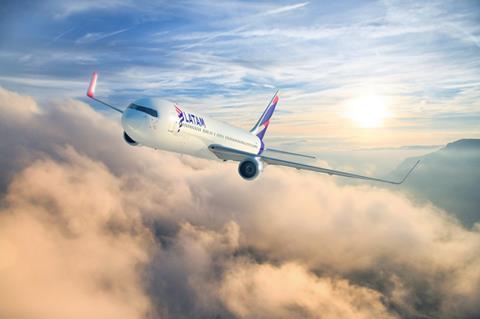 Total revenue in the fourth quarter reached $2 billion, 30.5% less than 2019 levels, but 22% more than during the same quarter in 2020. Revenue "continued showing an improving trajectory", LATAM says.
For the full year, LATAM achieved $5.1 billion in revenue, up 18% from 2020, but still less than half of the $10.4 billion the airline posted in pre-pandemic 2019.
"This past year was marked by continued advancements both from an operational perspective, with a significant ramp up of the group's operations, and marked progress in LATAM's reorganisation proceedings," the company says. LATAM has filed a proposed reorganisation plan and implemented cost-saving initiatives.
The carrier filed its plan with a US court on 26 November, and is awaiting approval. It says it has "broad stakeholder support" for its restructuring.
LATAM ended 2021 with 304 aircraft in its fleet. The company is now evaluating future fleet requirements.
"Fleet commitments have been reached with Boeing for two 787 Dreamliner aircraft, and Airbus, for a total of 70 A320neo family aircraft, which are 20% more fuel efficient, reaffirming LATAM's commitment to a modern fleet and its long-term sustainability strategy," the company says.
"The delivery dates are expected through 2028, though could be modified as a result of the ongoing discussions held with aircraft manufacturers in the context of the current situation," it adds.