LATAM Airlines Group plans for 5% of its fuel to be sustainable aviation fuel (SAF) by the end of this decade.
The Santiago-based company is the first airline in Latin America to make such a commitment.
"We are going to seek to consume five percent of our [fuel] consumption in sustainable aviation fuels by 2030, and we are going to privilege production of sustainable aviation fuels from Latin America," Roberto Alvo, the company's chief executive, tells FlightGlobal at IATA's Wings of Change event on 6 April.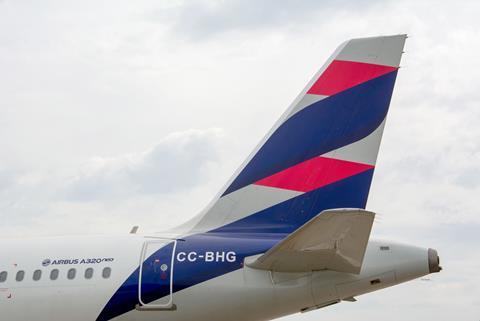 "Today there is no SAF production in the region, and we are announcing this as a first very important step of generating the incentives so that production can start in the region," he adds.
LATAM sees itself as a conduit to supporting increased use of SAF in Latin America, Alvo adds.
"We want to start an open conversation between governments and producers and companies to generate the set of public policies that will allow the production of sustainable aviation fuels in South America," he says. "South America has great advantages for this. We have all we need in order to be one of the most efficient producers in the world."
Earlier on 6 April, speaking during a panel discussion, Alvo says the industry must prepare for a change in travel habits in the post-coronavirus era, especially related to the rebound of the more-lucrative business travel market.
While leisure travel has returned to more-normal levels, companies in the future will be looking at more than traditional metrics like networks, prices and frequent flyer benefits when they create travel budgets.
"The major challenge of business travel in the future has to do with carbon dioxide emissions," Alvo says. "Companies are beginning to impose limits on themselves regarding these emissions. It's a paradigm change in the selection process. We could end up having less business demand for flights due to company policies around reducing emissions."
"We have an obligation to the environment, and a big challenge in decarbonisation," he says. "We believe that as leaders in the region it is our responsibility to take this first step and to start a conversation which is needed because the world can't wait."